Live Review
Rosie Flores Debuts New Blues Material at Natalie's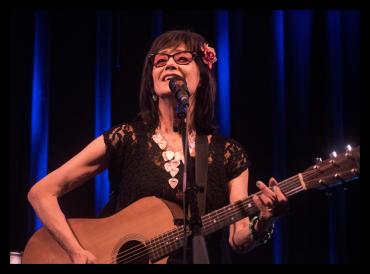 An opportunity to see Rosie Flores play is always rewarding. Fans of rockabilly have embraced her music for decades, and albums such as Dance Hall Dreams, Rockabilly Filly, Working Girl's Guitar, and Speed Of Sound have secured her musical legacy. But it would be shortsighted to pigeonhole her. Flores has done so much for women and music in general, and honestly, she defies categorization. Throughout her career, she has played singer-songwriter country, rock and roll, punk, traditional country, rockabilly, western swing, and now, blues! She did a stint in Asleep At The Wheel for a time, singlehandedly rescued Wanda Jackson out of obscurity and retirement, rejuvenated interest in Janis Martin, got the great Dale Watson a big break, played lead guitar with Butch Hancock, performed with numerous legends and musical greats, played The Grand Ole Opry and Austin City Limits, won numerous awards, and yet always remains true to herself.
Born in Texas into a musically inclined family, she eventually would spend formative years in LA playing singer-songwriter gigs, and as one of the many featured performers at the now defunct but legendary Palomino Club, regularly mixing it up with folks like James Intveld, Dwight Yoakam, The Blasters, and X. By her own admission it was a special time. She even toured with Elvin Bishop. Later on in her career, she would settle into the Austin music scene, playing legendary venues like The Continental Club and many others, getting to know everyone and performing with them in the process. These days, in Texas she's considered a legend of the scene.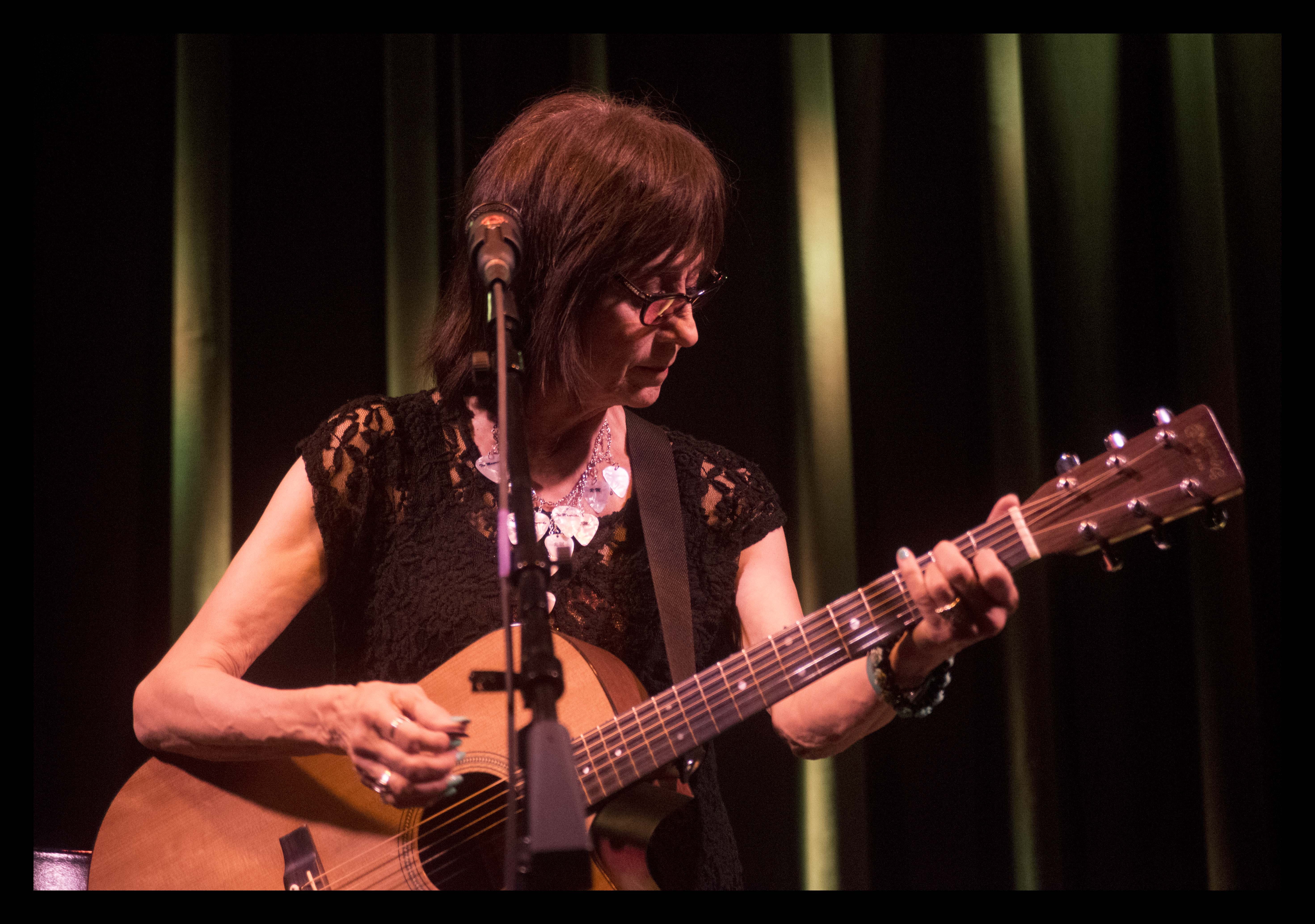 I had previously seen Flores in various settings and venues, but this particular night at Natalie's in Worthington, Ohio, was special. It was a solo acoustic performance presented by local promoter Alec Wightman. In fact it was a rare opportunity to see Flores with a truly stripped-down sound in an intimate setting. (Natalie's is a small but delightful venue, and it's not unusual to see folks like Jim Lauderdale, Eilen Jewell, Big Sandy, Tim Easton, and many other notables perform there when they pass through town.)
I've always thought solo acoustic sets must present a conundrum for performers. On the one hand, you can tour very inexpensively, but on the other hand, you have no band to lean on, and it must be quite a vulnerable situation for any performer. Well, Flores performed mightily, impressing all who were there. Armed with only her powerful voice, a single Martin guitar, and a small uncooperative battery-powered tuner, she played through a long set that served to showcase many highlights from her career. Out of the gate, Flores played "Born to Run," penned by Paul Kennerly, and a huge hit for Emmylou Harris back in the day. She explained to us that she fondly remembered opening once upon a time for Jerry Garcia and playing that song to great reaction.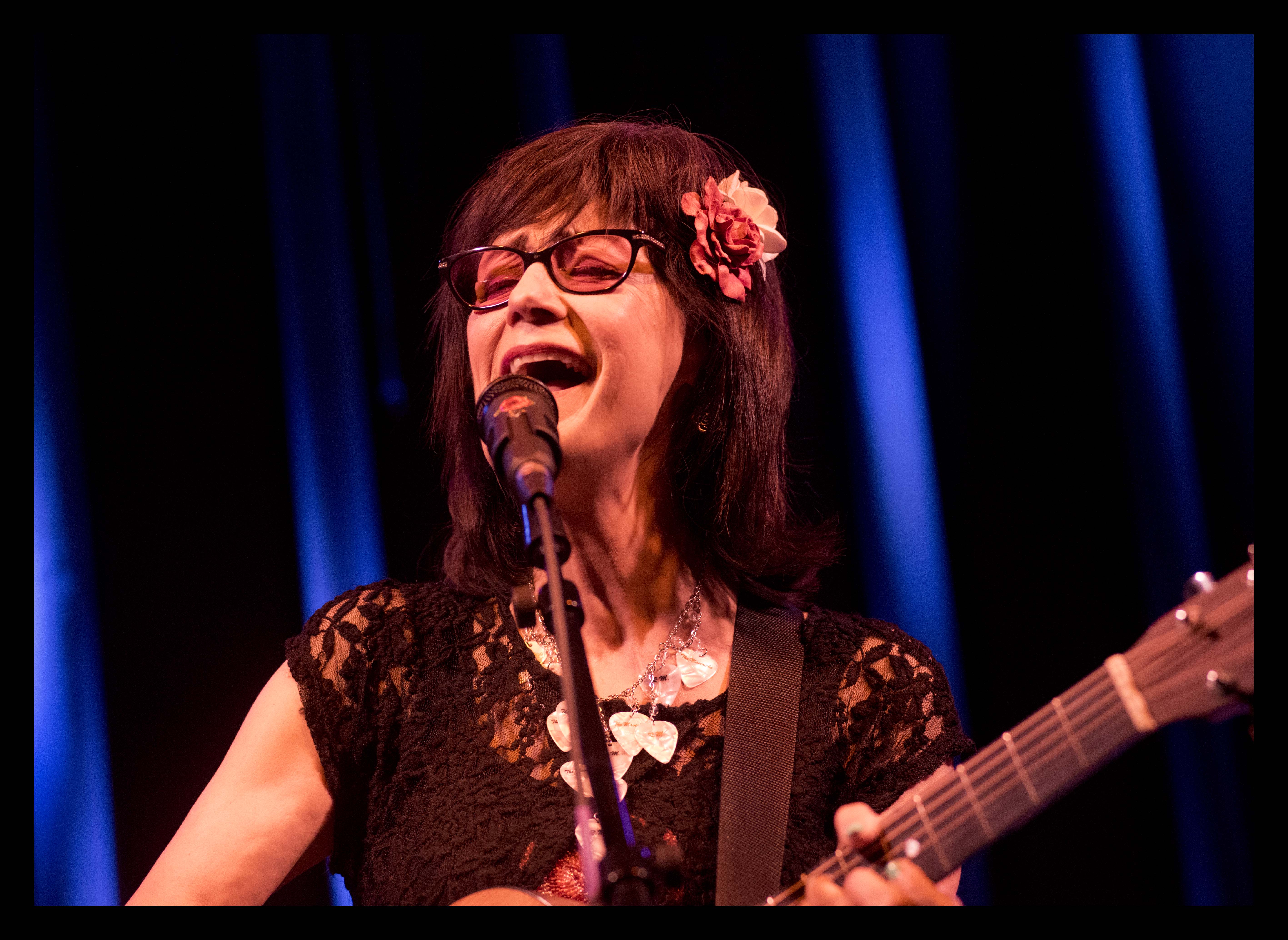 Honestly, sitting there watching her, I came to realize two truths. The first one being that Flores possesses a truly beautiful voice, and the second that she is a wonderful guitar player. Known for her technical prowess on electric, she clearly dazzled as well on acoustic, playing impressive solos that ran up and down the fretboard like musical bullets. In particular, her rendition of the Johnny Cash classic "Get Rhythm" was a barnburner that got the audience really going. It's a tricky rhythm to play for sure, but she nailed it. Flores also dipped into her early country catalog playing the Harlan Howard-penned "God May Forgive You But I Won't," and her first hit, "Crying over You," written by James Intveld and recorded back when the country music world was taking note of her in 1987. Always a crowd pleaser was Flores' own tune, "Bandera Highway," a loving tribute to her hometown of San Antonio, Texas, that mentions the mesquite trees, warm breezes and The Alamo. Other great songs from her extensive catalog followed, including the sultry, jazz inflected song "Boxcars," off Rockabilly Filly. A surprise of the evening was Flores mentioning an upcoming blues record she has in the can, as it were, and hopefully to come out soon!
She went on to play a few choice selections including a sassy tribute to Big Mama Thornton, covering – what else? – "Hound Dog." Flores shared her early fond memories of playing guitar in her childhood living room, with her brother and his friends, trading blues licks and learning Muddy Waters and John Lee Hooker songs. She mentioned that now that she's releasing a blues record, it feels like her life has gone full circle and she's back to playing her first musical love. If her playing on these songs this night is any indicator, it should prove to be a great album, and one worth buying for sure.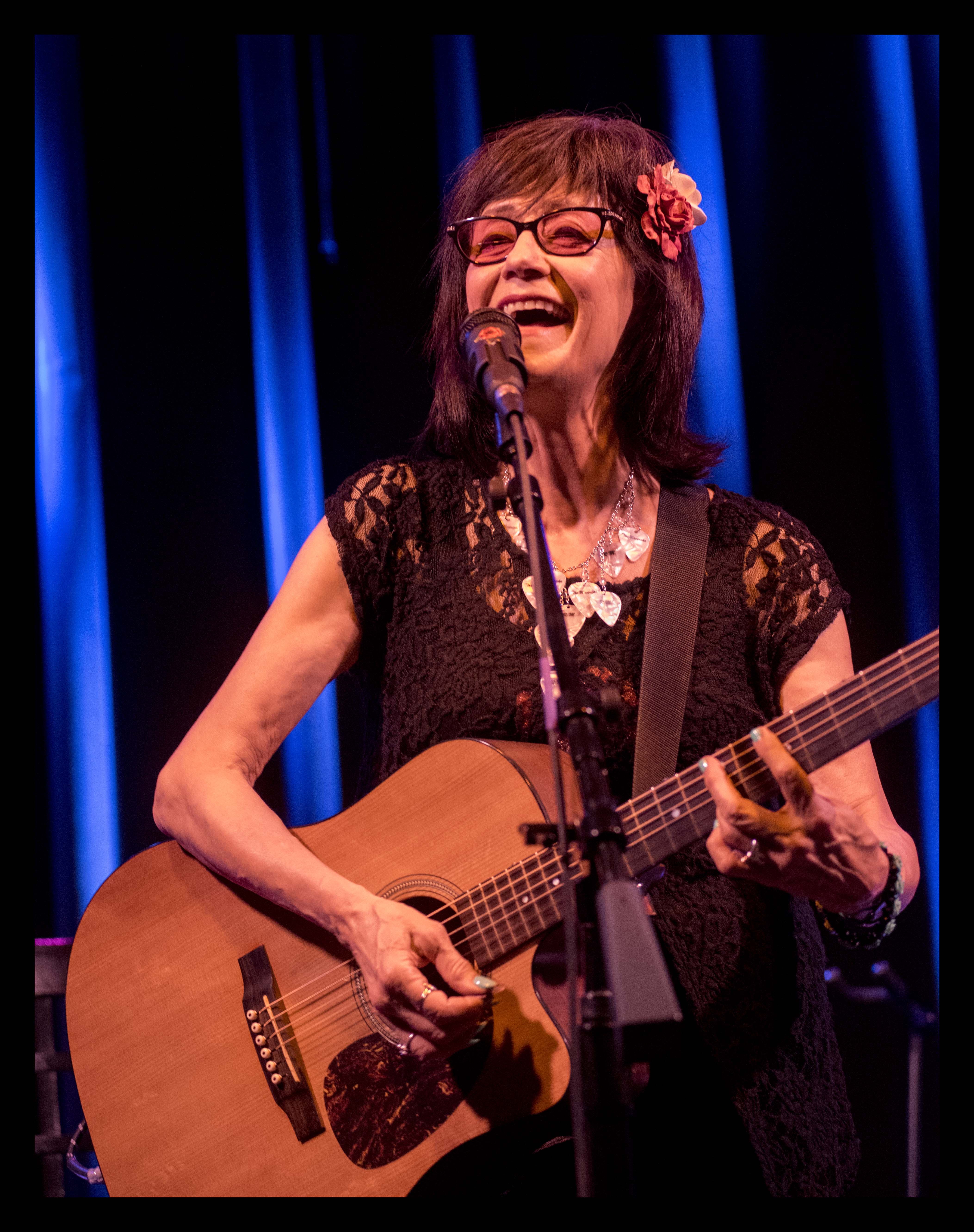 More great songs followed in a set that lasted nearly an hour and a half, and she showed off impressive blues bends and licks that amply demonstrated this lady can indeed play the blues or,  for that matter, anything she chooses! At the end of the night, she pointed out that her Martin guitar had some cracks in the side that she had repaired. She revealed that the late Chris Gaffney had given her this guitar. The original owner was none other than Dave Alvin, and word was he had done a Pete Townshend kind of thing to it in frustration one night! Yet it survived. So, putting this into perspective, Flores has played and recorded with Alvin, shared the stage with The Blasters and Dwight Yoakam back in the Palomino Club days, and now she has one of Alvin's guitars. So what better choice for a closer than "Long White Cadillac." This particular song, written by Alvin for The Blasters, memorializing the death of Hank Williams and his famous last ride, was a hit for Dwight Yoakam back in the mid-'80s. As she absolutely rocked it out, I couldn't help but smile and realize what a musical treasure Rosie Flores is, and how great to have her still performing and continuing to inspire the next generation of performers. Do yourself a favor, go see her.