Live Review
The Secret is Out on the Chris Robinson Brotherhood - The Stone Pony, Asbury Park, NJ
CRB
on July 14, 2015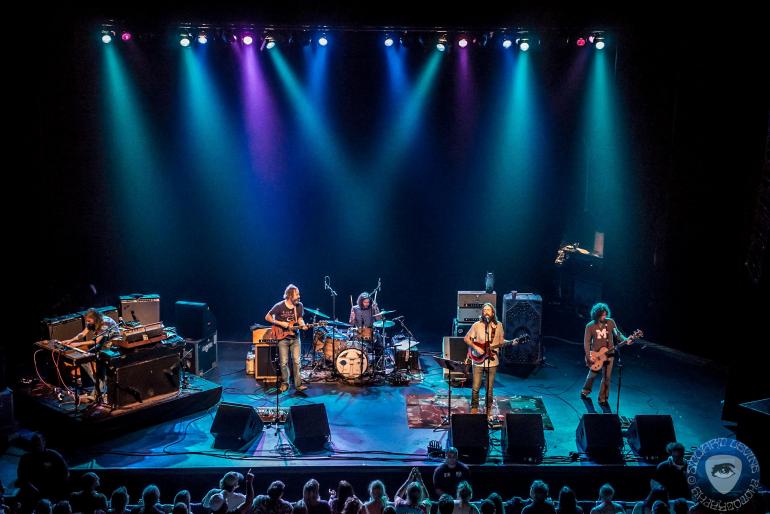 The evening of Tuesday July 14, 2015 marked the sweatiest psychedelic rock show I've attended in years. An over packed Stone Pony in Asbury Park, NJ proved that the secret's out on the Chris Robinson Brotherhood. Not that there should have been one in the first place, but the masses of New Jersey are usually easily aloof. However former Black Crowes frontman, Chris Robinson's soul powered rockability should never be questioned. As an alumni of close to triple digit Crowes' shows, one as a 'friend' with Phil Lesh and Friends in 2005, and even a few New Earth Mud shows, it's safe to say I'm a genuine fan of the Georgia native. A couple handfuls of years removed from the jam band scene, I went to this show with an open mind and zero anticipation. I left a fan, through and through, smiling ear to ear.
Other than the obvious, the CRB consists of fellow New Jersey native Neal Casal on guitar, Adam Macdougall on keys, Tony Leone on the drumkit, and Mark Dutton on bass. The quintet soldiered through the overly humid jersey air built up inside the Stone Pony's rectangular façade. Casal was simply on fire, using his guitar like an automatic weapon of sonic construction interwoven through Robinson's swampy-bluesy funk progressions, leaving plenty room for McDougall's moog molestations, piano and keyboard fills. An eight song first set highlighted by a Roy Brown cover in opener "Good Rockin' Tonight" into a "Roane County Banjo" kept an excitable if not claustrophobic crowd. The set was high energy, the band obviously hitting a cohesive stride, an artistic conversation being had on stage with musical notes sans speaking or rarely even eye contact. A rising version of Delaney & Bonnie's, "Poor Elijah" segued into O.V. Wright's "That's How Strong My Love Is" to put the first set to bed. The crowd parted to rehydrate on frothy libations and heavily cubed cold drinks.
The second set was no slouch either. Robinson and Casal dialing in on harmonies all night long in both vocal and guitar form. It's plainly visible the mutual respect and honor they have for each other – the whole band, for that matter. Glad to hear Casal's doing some song writing on the upcoming record. The covers came back to play with Chuck Berry's "Memphis, Tennessee", an Otis Redding funky R&B rendition of "Hard to Handle", and personal hero, Johnny Cash's "Big River" as the sole encore. Well over 3 hours of dank, improvisational rock-n-soul. It seems now as if this is where Chris was meant to be all along. With a Vox in his hands exploring sonic bi-ways with 4 other musicians taking a trip around the root of whatever groove they happen upon. Not saying I don't bleed Black Crowes black but the owl has found his nest. I've a feeling for the long haul. Catch them while they tour in support of their latest record, Phosphorescent Harvest on Silver Arrow Records. (+words: sz+)
SSKTDA on Facebook | SSKTDA on Twitter | SSKTDA on Instagram
Check out Sad Songs Keep The Devil Away for more musings
Dig deeper, you deserve it...