Live Review
Tedeschi Trucks Band - Joyful Noises @ Ryman Auditorium 3/3/18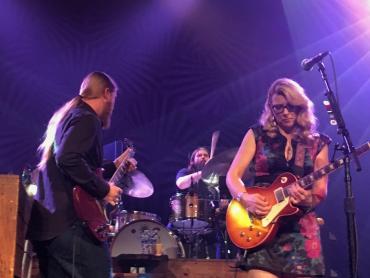 "My music is the spiritual expression of what I am — my faith, my knowledge, my being . ..When you begin to see the possibilities of music, you desire to do something really good for people, to help humanity free itself from its hangups ... I want to speak to their souls." — John Coltrane
Three songs into Tedeschi Trucks Band's fourth sold out show at Nashville's venerable Ryman Auditorium, Susan Tedeschi paused. The band she leads with her husband, guitar virtuoso Derek Trucks, had just burned through two positive, high-energy originals, "Laugh About It" and "I Want More" to open the show.
The woman who had just belted out two soulful rock songs with a gusto to match Mavis Staples or Etta James spoke in a high, almost childlike voice.
"I want to send this out to … I don't know … there are so many people I want to send this out to. So many people are affected by the violence and everything that's been happening. Just … well … this goes out to the Parkland kids."
Her voice grew strong again as she began "It's So Heavy," a song from the band's 2013 release, Made Up Mind. The tempo was slow, the delivery made with slow-burn sincerity that conveyed the sense of helplessness so common among her listeners, burdened under our rolling national crises.  
… You gotta feel the pain, you got to see the suffering
Gotta heed the cause
Oh, it's so heavy …
I've got to let a little
Let a little go …
It was a dramatic downshift in what began as another fiery blues-rock show from America's foremost (and probably only) 12-piece rock-blues-soul-funk-jazz-gospel powerhouse. This wasn't a departure from their other performances, but a par-for-the-course exercise in crafting some of the most honest and emotionally affecting music being made today.
Tedeschi's emotional investment in the headlines is informed in the same ways other civilized human beings react to senseless tragedy: it's personal. There but for the grace … As a mother of teenagers in Jacksonville, Florida, our country's latest trauma undoubtedly hit close to home for Susan Tedeschi. So it is with anyone with a heart. But Tedeschi isn't just anyone, she's a superb musician, riding high on the crest of a highly successful 20+ year career, with the talent and willingness to express the truth in ways unavailable to all but the rarest of talents. She's a consummate artist who can wear her humanity on her sleeve, or slung over her shoulder like her Gibson Les Paul.
The band is large in numbers and larger than the sum of its considerable parts: Tyler "Falcon" Greenwell and J.J. Johnson are the two drummers, and together with bassist Tim LaFavre they supply a bottom end with seismic capabilities. A three-piece horn section provides a balance of punchy lines and improvised passages while the highly capable Kofi Burbridge plays keyboards and the occasional flute solo. Vocalist Mike Mattison is a leader among equals on the riser he shares with the other gospel/soul harmony singers, Mark Rivers and Alecia Chakour.
And then there's Derek Trucks. He seldom looks at the audience and never speaks, yet possesses a quiet authority and charisma that holds the audience in thrall. He leads from the center, listening carefully, providing the occasional change in direction with a look or a nod. His greatest strength is not necessarily his virtuosity, which he possesses in spades, but his creative intelligence. He serves the songs, pouring passion into an endlessly creative flow of musical statements. His guitar embellishments never come across as egotistical "hey, look at me" rock and roll clichés, but as conversations with the other musicians. Sometimes he has a great deal to say, but he refuses to dominate the conversation.
Tedeschi Trucks Band wears their influences proudly, infusing classic blues-rock staples like "Statesboro Blues" and "Key to the Highway" with the bruising swagger that makes them the modern standard-bearers for the kind of joyous rock music made by Derek and the Dominos, the Allman Brothers Band, or Joe Cocker in his Mad Dogs and Englishmen days.  A band of their talents could easily fill their concerts with baby boomers eager to hear the second coming of Duane Allman, and without a doubt many people flock to their shows based on that association. Those fans get far more than they might have scripted, had they been granted such a privilege.
Nearing the end of the first set, the band dug deep with a new song, "Shame," one that's yet unrecorded. It has the unmistakable authoritative hook and groove that much of their best work possesses, and the lyrical payload has not a hint of nostalgia. Far, far from it.
… Shame, the hurt they put on me and you
Shame, shame, shame, you know they're murdering the truth
Now I try to let it all fall away
Somehow I can't find the words to say
And I wonder why we're broken
You got to wonder where the hell we're going…
Its clear-eyed and unflinching expression of the anger and disillusionment in the US today stung like a hornet. At the same time, the message was balanced with a sense of momentum, as if the righteous anger being expressed might have a positive place to go.
And then they went to church. Billy Taylor's Civil Rights-era anthem "I Wish I Knew How It Would Feel To Be Free," further popularized by Nina Simone, provided the perfect release to the tightly wound set. It's a song of hope given a full gospel treatment by Tedeschi, aided by deeply soulful cameos by Mike Mattison, Alecia Chakour, and Mark Rivers.
I wish I could share
All the love that's in my heart
Remove all the bars
That keep us apart
I wish you could know
What it means to be me
Then you'd see and agree
That every man should be free
It was a stunning conclusion to an extraordinary set of music that took the audience on a roller coaster of moods and emotions.
After a 30-minute breather, the band hit the ground running with a rocking "Statesboro Blues," followed by a highlight of many TTB shows, the touching "Midnight in Harlem."
Up next was a faithful rendition of Neil Young's scathing indictment of Southern bigotry, "Alabama." TTB began playing the song in the run-up to the state's special senatorial election in 2017. The gravitas of the subject matter is bitter medicine for a Southern audience in a Southern town, and the message is clear: Just as the older generation of hippies in the New South rejected their intolerant status quo, a new generation has taken up the torch, and they're no less patient with bigotry. And while the song choice was unapologetically political, it stood without comment, allowing the "weight" referenced in the song to fall where it may.
As the set continued, a pattern emerged as TTB's solid originals alternated with cover songs that paid homage to their influences and preferences. Another poignant delivery was that of John Prine's gorgeous "Angel from Montgomery," which was a perfect vehicle to express world weariness. Tedeschi's ability to pull emotion from a song was never stronger. The previously boisterous crowd grew quiet as they savored Prine's evocative lyrical masterpiece.
"Get What You Deserve," a raucous up-tempo tune from the days of the Derek Trucks Band, was next, sung by Mike Mattison. Tedeschi got a chance to show her blues guitarist bona fides on the following song, "How Blue Can You Get?" In most other bands she easily would be the most accomplished guitarist, and somewhere in the Great Beyond B.B. King surely smiled down at her polished yet gutsy finesse. To further evoke the great B.B. King, the band's reverential treatment of one of his most popular songs made it work just the way B.B. did: they took sad song, pretty much a roster of misfortune, and made it absolutely joyous.
Pushing the set to a frenzied finale, Trucks led the band into "The Storm." This searing rock number featured Trucks' most intense, evocative playing of the night. Tedeschi leaned into the lyrics, belting out a fierce description of a harsh day of reckoning.
Wind starts howling
Storm starts moving in
Storm gonna rise up
Nowhere left to stay
Out of the din of crashing cymbals and screaming guitars stepped saxophonist Kebbi Moore, who brought a moment of softness and serenity into the chaos: the eye of a musical hurricane. Soon after, Trucks began a long, fluid instrumental passage that gathered momentum and intensity patiently for more than ten minutes before transitioning into the familiar loping refrain from the Allman Brother's classic "Whipping Post." It was brilliantly paced and endlessly nuanced, finally resolving in a cathartic blues coda. The band left the stage as the crowd shouted for more.
The encore was pure musical balm; a group hug in song. The three-song finale began with Tedeschi and Burbridge offering a placid and touching take on Leon Russell's "Song for You." The rest of the band then returned and provided a song fit for the Mother Church as "Will the Circle Be Unbroken" received the Sunday morning treatment. "Bound for Glory" followed, and the TTB original felt every bit as church-y as if they played Amazing Grace. Four voices in unison, backed by a full stage of master craftsmen, as deeply connected to the audience as to each other, sang together:
Can you feel it?
Bound for glory!
Can you feel it?
Glory bound!
As the band repeated the refrain again and again and brought the song to a close, there came a clear sense that there was nothing left to say, except "good night." This was nourishment for the soul, an emotionally charged message of hope and togetherness that left the satisfied audience stunned and exhausted.
For many music listeners, live music is much more than an entertaining diversion from the daily grind. It's an opportunity to gather with the like-minded faithful to laugh, cry, think, and dance. For people open to the experience, artists might reflect to us a glimpse of our better selves. A concert can be form of spiritual nourishment. By this measure, Tedeschi Trucks Band is a feast.
— Tim Jones