Live Review
Underhill Rose In A Sacred Space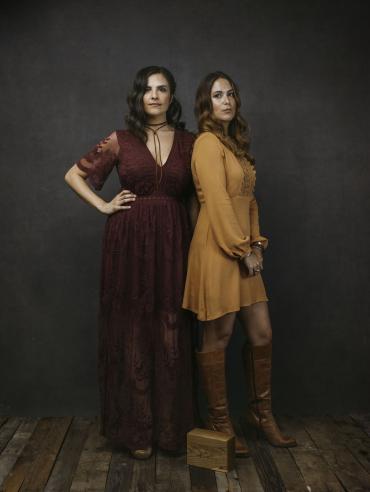 Live music is sacred. We all know this. A bond is formed between performers and those gathered to listen, connecting our shared humanity, love of stories and the transcendent beauty of music and voice. The Red Clay Music Foundry has always been a sacred space: once a church sanctuary, then a theater, and for the past six years a beloved listening room and music school. Whatever nastiness is happening out in the world tends to, for the most part, stay outside this space.
Eleanor Underhill and Molly Rose -- known collectively as Underhill Rose -- brought their own bit of sacred magic to an enthusiastic crowd on this perfect June evening.  Performing as a trio (Rose on guitar, Underhill on banjo and Gary Oliver on upright bass) they opened with two numbers from The Great Tomorrow (2015), easing into the wide-open country tune "Montana," a deft exploration of escape and longing, followed by the hauntingly steamy "Whispering Pines Motel," inspired by a notorious Asheville, NC  "budget" motel -- read the Trip Advisor reviews for some disturbing laughs.
Underhill and Rose met while attending Warren Wilson College near Asheville, North Carolina, over a Bonnie Raitt cover of John Prine's "Angel From Montgomery." (Read this article for more about that.) Both women are superb musicians, singers and songwriters, each with a unique style that complements the other: Rose often writes sunnier, more traditional country/bluegrass tunes while Underhill has a captivating R&B/soul sound with sultry vocals and multi-layered meanings.  
Highlights were the Underhill-penned "Love Looks Good on You," "Helpless Wanderer" and "Westside," the latter from their 2011 self-titled debut. "To each one their very own / I can't be a lover with a heart of stone. / You want to get but you don't want to give. / You can't love me when you don't know how to live."
One true test of talented musicians is the ability to cover songs by other artists and make them their own -- otherwise, what's the point in a cover tune if you can't do as well or better than the original? On record and in concert the duo has covered classics by Nancy Sinatra ("These Boots Are Made for Walkin' "), Kim Carnes ("Bette Davis Eyes"), Prince ("When Doves Cry") and John Prine ("Long Monday"). Check out the latter Prine classic on Underhill Rose's Live album from 2017 -- it's one of the best covers I've ever heard.
They finished the night with a new original by Underhill called "Captured in Arms" inspired by the tragic mass shooting in Paris at the Bataclan Theatre in 2015 (look for this on Underhill's solo project this October), a cover of Bruce Hornsby's "Mandolin Rain" and "No More Demons" from their debut: "I see that vision in my head / And only I can understand. / I've got the choice / To use my voice. / The season's changing, the stars rearranging for me."
Regarding the event that moved her to write "Captured in Arms," Underhill said after the show, "It really shook me up. We were on tour in DC and playing music for a big crowd of people ourselves, so it hit home. Live music is sacred to me because it gathers all sorts of people together. To use that as a weapon is horrifying. I felt powerless to do anything. I took to writing out some thoughts and when I came to the line 'please don't kill my friends anymore' I realized that was the heart of what I wanted to say. As a whole, [this] is a song attempting to reckon with some of the darker sides of society."
During dark times such as these, music and the artists who create are more sacred and necessary than ever. As this venue's revered founder Eddie Owen has always said, "Life is in the song."