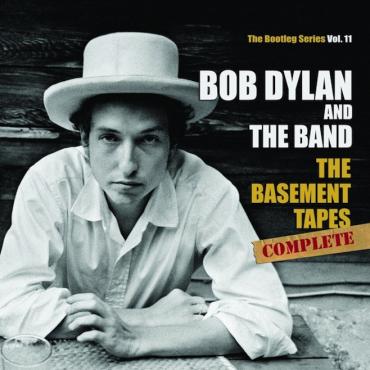 The brief period that The Band and Bob Dylan spent in 1967 (in actuality only from June to October of that year) recording music in the basement of a pink house in West Saugerties, NY, was as remarkably brief as it was fecund, both for the amount of recordings authorized (1975's The Basement Tapes), bootleg and otherwise, it produced as well as the number of musical treatise focused largely around this short period. 
Music From Big Pink as a singular musical statement and then the mythology that grew around the Big Pink period clearly fascinates many.  What we know, or knew, as The Basement Tapes was the lightning rod in many ways that The Band started to become known by — while the nation went paisley, day-glo and incandescent — they went firmly in the opposite direction, toward soil, loam, rain and the king harvest. Greil Marcus describes The Basement Tapes in elegaic terms, using the "songs" as a very loose map of the Old, Weird America (originally published as The Invisible Republic).  Marcus describes an America full of charlatans, wearers of "masks" (the mask of the reverend or pious man, the banker, the respectable citizen) clamouring for whatever snake oil was proferred at the Medicine Show. Union men and city folks buying the mineral rights, inches below a dirt scrabble farm, right out from under the noble farmer. 
As Professor Louie Hurwitz (who recorded Rick Danko and Garth Hudson's last few solo releases) aptly put it once: "The Band is a myth, right?"  But the myth of The Band didn't spring fully formed from the mind of Zeus like Athena did.  It grew slowly and with each telling took on new meaning.  Marcus' thoughtful book has likely confounded scholarship on the topic of The Basement Tapes as much as it has a nice dust jacket quote from Dylan.  Marcus' apocryphal reading of The Basement Tapes songs and period is a wonderful story of an America that Dylan and Robertson may have been pointing too.  Then again they may have just been having fun in the basement, with a dog at their feet, making up placeholder words where they only had a rhyme. 
There's a certain naivete  to this period that is undoubtedly wholesome and revered by fans of The Band.  A naivete that was not shared by the group.  By this point Ronnie Hawkins had already seen dollar signs in the young Mohawk Jewish kid that showed up at his gigs with guitar in hand.  Enough so that Hawkins took him down to the Brill building to show him how it all worked.  Robertson picked up quick, and what Ronnie didn't fill him in on Albert Grossman made explicitly clear, the money was in the songwriting credits.  While the sessions yielded a few co-penned tunes like Tears of Rage (Dylan/ Manuel) and This Wheel's On Fire (Dylan/ Danko) as Levon would later say of Chest Fever, 'do you remember the lyrics?'.  In a time when even the organist from Procol Harum is getting a buck or two from A Whiter Shade of Pale and more recently Jack Kirby is getting credit for his cosmic illustrations and characters that Stan Lee claimed for himself - how will history look on Dylan and The Band's collective endeavour?   The Band wasn't anything resembling a group by the time of The Last Waltz, undoubtedly the seeds of discontent were sown in the basement of Big Pink. As Barbara O'Brien Levon's longtime manager (spearhead behind his legendary Midnight Rambles intended to defray his insolvencies) and advocate is openly questioning: "I have SO many questions. How can a major release like this happen and Levon's Estate not even be contacted beforehand? I wonder if Rick and Richard's families were contacted? What's the deal?"
If what you're looking for is in an in-depth music book full of details of musical composition and recording plus a few salacious bits, Old Weird America is not it.  Levon's own Wheel's On Fire is that book.   Regrettably a lot of fans of The Band do not take their music education further than Levon's book- which is steeped in his hatred for Robbie and how he blames Robbie for the multiple bankruptcies of he and Garth.  Wheel's On Fire is Levon's response to Robbie and Marty's (Scorcese) coked up film that cemented the mythology of The Band.  Without The Last Waltz, let alone Robbie Robertson's songwriting,  the mythology of The Band would be nowhere near where it is (and it's non-lyrical writing members even potentially further insolvent).  It's also noteworthy that John Simon (Band recording engineer, Tuba and Sousaphone player, wannabe 6th member) recently sided with Robbie on that dispute (citing the strict ASCAP songwriting royalty model that Robbie had down from an early age).  But then again Simon himself got scalped by Robbie more than once (as recounted in Elmore Magazine):
Helm believed Robertson had shafted him (and the rest of the Band) on the publishing and broke up the Band. The fact remains that Robertson (and Dylan and Manuel) wrote most of the Big Pink songs in Helm's absence, and only co-writers, not arrangers get royalties.
 

Which is not to say Robertson played 100% fair.
By 1976, John Simon, who accepted one sixth of the Big Pink record deal, hadn't seen a check in a long time, so when Robertson asked Simon to produce The Last Waltz, Simon agreed, but mentioned the missing royalties. Robertson sent him a check for $64,000, and asked Simon to forego future royalties on those first two albums, but to take royalties on The Last Waltz, which Robertson told him would sell better. "We lived next door to each other, I was the godfather of his first-born, we shared a driveway. What can I tell ya?" Simon said. "Everybody was smoking too much dope at that time, including me, and I trusted him." He's since earned "not a penny"' from those first two albums, and because Warners charged the cost of the film against the album, he gets "a check for maybe $600 a year from The Last Waltz; in common parlance, [Robertson] totally fucked me." Helm claimed that he, Manuel, Danko and Hudson never received money for the Waltz videos, DVDs or soundtracks; John Taplin, who produced the film with Robertson, claimed that nobody who worked on The Last  Waltz film-including himself, Robertson, and director Martin Scorcese-has made any money from the film.
A third fairly reliable resource for Band acolyte's is Barney Hoskyn's Across The Great Divide: The Band and America.  The caveat being that this book is very unpopular with members of The Band and their intimates.  The feeling is that Hoskyn's made up details where they suited him (such as fabricating that Band affiliate Buffalo boogie woogie pianist with the strong left hand Stan Szelest - who Billy Preston replaced on The Band's '89 tour, their first without Manuel- was a cocaine addict).   But in Hoskyn's defense he also regrets that he left out details from his tome including the image of a heroin addled Rick Danko waddling around his adopted hometown of Woodstock in his latter days.
If what you are looking for is a dense track by track appraisal of the context and content of the songs included on Basement Tapes (complete) Vol. 11 then look no further than Ann Margaret Daniel's riveting New Life for the Basement Tapes: A Modern American Epic elsewhere on this site.  Amongst a host of deep observations Daniel's introduces the fact that the so-called basement tapes were not all recorded in the basement of Big Pink but rather in one of three locales (Dylan's Red Room and Levon's address on Wittenburg Road being the other two). 
Moral of the story: it looks like Garth finally figured out a way to get payed on this one.  And boy did he need a payday.  Let's not forget that Garth and his long suffering wife Maud (or vice versa) were evicted from their Hudson Valley apartment last year due to astronomical back rent.  As the New York Times reported their unscrupulous landlord "held a garage sale of items in the storage unit, then moved many of Mr. Hudson's remaining things — among them records, reel-to-reel tapes, sheet music and memorabilia — to a local auction house, where they were to go on sale."  Garth got an injunction and countered that the 'Garth Hudson Archive' had been looted.  It's a miracle much survived the opportunistic snatching although some items have apparently been repurchased piece meal.  Garth is also notably not the only member in The Band to have lost everything in a fire. 
It is almost impossible to imagine how this album could have been released in Levon's lifetime.  It is more than a little suspect that it comes so soon after his death.  Still the listeners and true afficianados should not bear the cost of ancient rivalries.    Garth Hudson together with Jan Haust (a Canadian producer who recently acted as a consultant on Bruce MacDonald's insightful Yonge Street: Toronto Rock & Roll Stories) have cleaned up and placed in chronology "every salvagable recording" according to Garth's musical notations.  Bob Dylan & The Band Basement Tapes (complete) vol. 11 is truly more than just a remastered version of the not-exactly-readily available A Tree With Roots bootleg collection:
4CD Dylan bootleg set released in 2001 on both the White Bear and the Wild Wolf label, then again in 2002 in box format by Vagabond Wilbury Records, with minor additions. The boot is probably in some way connected to the Bob Dylan CDR tree distribution page "To the Tree with Roots".
It's a complete overhaul of the basement tapes, 128 tracks in total, completely remastered with a major leap forward in sound quality compared to the original 5CD set. It's also put together in a much more organized and logical sequence. High quality packaging, 2 booklets, extensive original source notes and reprints of important press coverage. The original pressing was limited to 500 copies.
 While it is much more than A Tree With Roots their source is undoubtedly the same (a variety of tapes including a 1967 ten-song demo, a 1968 five-song demo,  the "Basement" safety, a Dwarf Music Demo Tape, the Robertson-Fraboni Compilation Reels, The Band Roadie Reels, 1991 Cassettes).  Both collections, with their unique differences, endeavour to place the odds and ends we know as 'the basement tapes' within a broader curatorial sweep and tide.  On Vol. 11 we do get the best of A Tree With Roots (for instance Spanish Is The Loving Tongue as well as multiple outtakes of Nothing Was Delivered) as well as a rare almost messianic take on Curtis Mayfield & The Impressions People Get Ready.   On Young But Daily Growing, with Dylan on acoustic guitar and sparse accompaniment, here's a good instance of Dylan literally teaching Folk music to The Band - the style of music they knew the least about.   The British folk song The Trees They Grow So High is known by various titles (including Bonny Boy is Young (But Growing)) - here Dylan uses the basic template of the song and verse structure staying faithful at parts but largely substituting his lyrics.    Nothing Was Delivered (Take's 1-3) are more of a piece with the sort of music associated with The Basement Tapes and again it is hard to think of The Band's contributions as simple accompaniment- the accompaniment is just as important and central as the lyrics and Dylan's voice.  The opportunity to hear the group move through multiple takes only sheds further light on what was happening in the basement.   Most intriguingly listeners also get Sign on the Cross with which they may be least familiar.   In a recent mini-doc for Rolling Stone Garth says with a fair measure of confidence that his belief is that on Sign on the Cross Dylan composed and executed the song simultaneously (rather than typing out lyrics first and bringing them down to the basement to hatch out a song with the fellas).  The Complete Tapes make broadly available in the highest fidelity songs that were previously strictly in the province of bootleg chasers.  This is a well curated and expansive collection, with a silverback streak of Garth running through it, that any completist would never be without.
* this review was originally published 08/29/14 at http://northernheads.blogspot.ca/2014/08/bob-dylan-band-basement-tapes-complete.html