Album Review
Kentucky Headhunters with Johnnie Johnson - Meet Me in Bluesland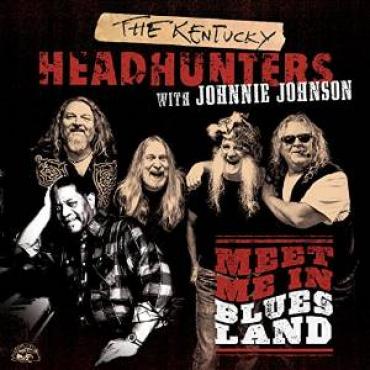 Beginning life as the aptly named Itchy Brothers in '68, Brothers Richard and Fred Young, along with cousins Greg Martin and Anthony Kenney, became the The Kentucky Headhunters in '86. Their loose-limbed, rattly backwoods rock and roll earned them accolades since their '89 debut, Pickin' On Nashville. That original lineup is still in place with the addition of Doug Phelps on rhythm and lead vocals.
But back in '03, the band temporarily took on another member. Chuck Berry's pianist Johnnie Johnson joined with the band to cut some tracks for '03's Soul. The band liked the result so much they planned to make it a standalone release, but the project got shelved until last fall, when Johnson's widow contacted the band and asked them to release it before she got too old to enjoy it.
Age has only improved this offering, rockin' Appalachia-billy that'll put a big ole grin on your face. Released June 2, 2015, as Meet Me in Bluesland, it's a raucous romp through a passel of original rockers, with Johnson providing rhythm and blues flourishes.
"Stumblin'" is Headhunter speak for what you do after a couple of 'skis down at Dumas Walkers. "Let's go stumblin', cause you know we can't dance/Baby,you can step on my head/ I'll be shaking like a chicken that's dead," Doug Phelps bawls, while Richard Young provides the Chuck Berry twang, with a ton of whammy bar action.
The band takes its first excursion into bluesland with "Walking with the Wolf." Richard Young bellows raw screamin' blues over greasy Allman-esque slide, offset by Johnson's delicate piano tiptoeing through the juke joint, tinkling like breaking bottles.
Berry's "Little Queenie" showcases Johnson's barrelhouse piano, pounding out licks like a wrecking ball. Johnson gets top billing once again on "She's Got to Have It," his last recorded vocal, his basso croak thick as molasses.
Although he didn't write "Party in Heaven," it reeks of Berry-isms, chugging along like a boogie-woogie freight train bound for glory, with Johnson shoveling coal into his pumpin' piano, Young hanging in on guitar like a dirty shirt, stinkin' with rattly Berry twang.
It's long been rumored that Johnson never got credit for all the tunes credited to Berry. In the '86 documentary Hail Hail Rock and Roll, celebrating Berry's 60th birthday, bandleader for the occasion Keith Richards wondered aloud about Berry's tunes being in piano keys, alluding to the fact that Johnson may have written many of them. He may never get credit for that -- Johnson died in '05 at the age of 80. But thanks to the Headhunters, his legacy and his powers as a performer live on, showcased here at the height of his powers.
Grant Britt