Interview
Lera Lynn: "There Is an Audience for Dark Music"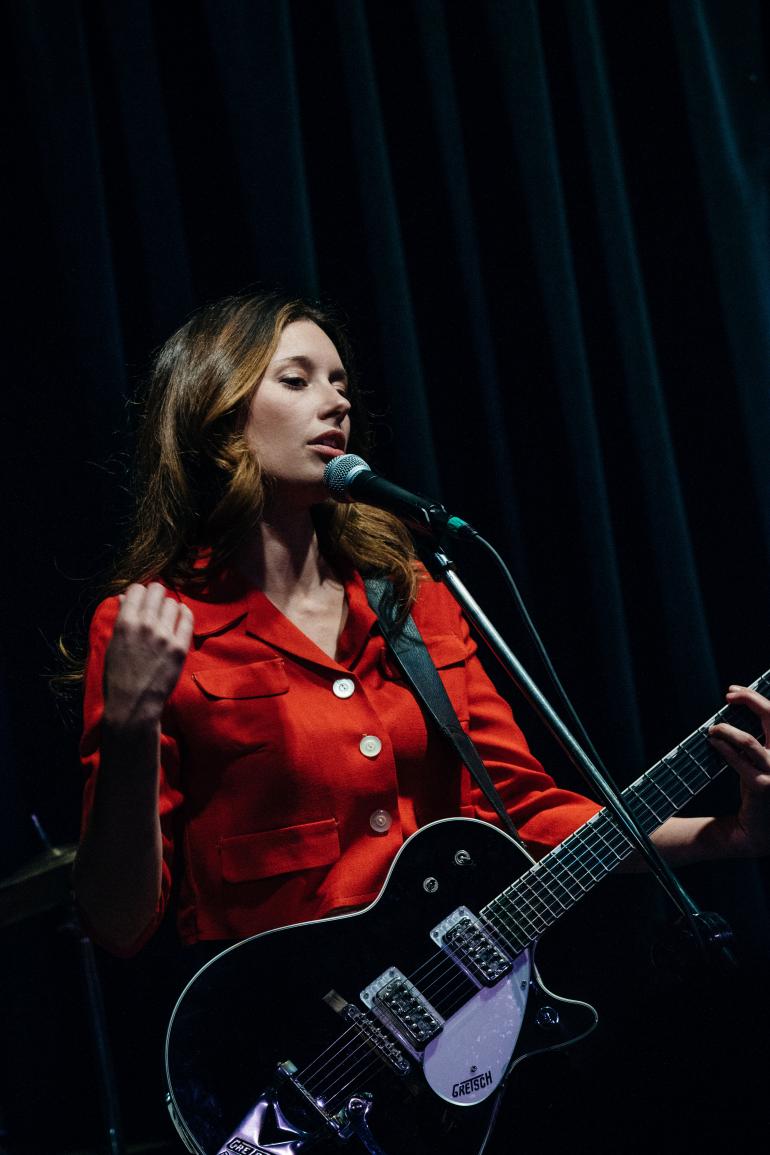 She's been described as everything from "Lana del Rey's David Lynchian ice princess" to "the female equivalent of Chris Isaak." But when the hotel clerk at her recent Decatur, GA, stop saw the guitar strapped to her back and asked Lera Lynn what kind of music she played, she paused for for a minute before simply replying, "American."
It's a question she has been repeatedly asked. since long before she cut her first album or signed on to play the singer in a dive bar on the HBO show True Detective. Her discography proves it's a question she's only recently answered for herself. Lynn has been touring relentlessly over the past few months both on her own and in support of other artists, including Sheryl Crow and Josh Ritter.
Born in Texas, raised in Georgia, and now living in Nashville, her sold-out show at Eddie's Attic in Decatur wasn't only the penultimate tour stop before a short break, it was like a family reunion -- she was surrounded by many of her friends and longtime fans who could legitimately boast "they knew her when."
Later that night, Lynn noted that this show was the first time she has ever sold out the venue that's renowned for its listening room-style atmosphere. There was a time when her music might not have been welcome there. But this night, supported by pedal steel player and producer Joshua Grange, drummer Tommy Perkinson, and bass player Robby Handley, Lynn wasted no time diving into her earthy brand of Americana.
Her setlist included old favorites like "Whiskey" along with some tracks that will likely make an appearance on her next album (tentatively set for an early 2016 release). Lynn punctuated the set with stories and anecdotes from her childhood in Georgia, which included the story behind "Out to Sea." That song was inspired by a friend who was dealing with what was thought to be an ovarian cancer diagnosis. After an encore that featured her well-known rendition of June Carter Cash's "Ring of Fire," a visibly tired but genuinely grateful Lynn stayed more than an hour to personally visit with fans, pose for pictures, and autograph merchandise.
Lynn took some time out with me at Brick Store Pub earlier in the day to share a little bit more about the obsession with elucidating her music, what it's like co-writing with T Bone Burnett, and what we should expect from her next.
Annalise Kaylor: How do you feel about people trying to pigeonhole your music?
Lera Lynn: I remember when I was much younger, living in Athens, Georgia, and going to college. There was a woman who came to deliver a seminar. She kind of opened up the floor for questions and I was just getting started in music. I was very nervous, but I stood up to ask a question, one I can't even remember now. She said, "What type of music do you play?"
I said, "Well, it's kind of a little bit of this and a little bit of that." She said, "If you can't describe it to me in one word, you're wasting my time. Next?"
I think that's bullshit. That's the old model, and why would you ever limit someone like that?
You can hear the influence of so many types of music — country, jazz, blues — in your work. So how would you describe it to someone who has never met you or heard you?
I don't know. I usually just go with something that's like, "American, my music is very American." There are such biases and cliches attached to every genre. I could say "country" to you and you might think "Buck Owens" or I could say "country" and you might think "Taylor Swift" or "Blake Shelton," so I kind of shy away from it, because it's kind of misleading.
Writing with T Bone Burnett was your first time co-writing. What was that like? How is that different from your usual process?
I moved to Nashville, and co-writing is a popular thing, so I've dabbled in it. Working with T Bone on the co-writing was definitely the first time I've done it in a real way, not in that "let's just get together and see if we have any writing chemistry" kind of way. That was kind of it, too, but once we figured out we could write together it was like, "Game on, we've got to get a lot of shit together really fast."
It was fun, it was freeing. We had direction, we had structure, we had a limited amount of time. We had certain cues. Otherwise we could have done anything. When things are narrowed down for you, it helps. It's easier to write from someone else's identity because it doesn't have to represent you and what you believe in. I guess I never realized that people would equate my work to my identity as an artist, but I guess it's not very clear that I'm playing a character.
How has writing for a fictional character challenged you or impacted your writing outside of True Detective?
[laughs] I used to think my music was really dark, but now I think it's kinda light. I think that what has changed for me, based on the reception of the songs, is that it's opened doors in my mind, that there is an audience for dark music, darker than what I've put out on my own, but is a part of me. I've always been told "no no no." Up tempos, major keys, hopeful lyrics, people want to have fun.
The last five years have brought you two albums, an EP, a soundtrack, and numerous accolades throughout the industry, including The Avenues landing on Rolling Stone's list of the Top 40 Country Albums of 2014. Where do you think your music is going?
I feel more confident than ever that I can do whatever comes naturally to me. When I made my first record, Have You Met Lera Lynn, it came at an interesting time because I had been kind of playing these jazzy, complicated songs and I don't think I stayed very true to myself as an artist. I was raised on country music, you know, and some other things, but mostly country. So I thought I should just make a country record. The Avenues, I think was much less structured on a genre. [They were] songs I had written over a couple of years and put them together based on how they worked with each other.
I think it helps to work with a great producer when it comes to that, too. I'll do like a bossa nova, and then I'll do a weird like 90s rock thing. How do you make those cohesive on a record? [Producer] Josh Grange has been great. He finds a way to arrange songs with instrumentation and produce the sounds so that even when you get to the meat of it and they're totally different, they work together somehow.
You've played on Prairie Home Companion and with Punch Brothers. What do you think of Chris Thile taking over as host of the show once Garrison Keillor retires?
I've done Prairie Home Companion four times and I always love working with Garrison. What a character. Totally unpredictable in conversation, on stage, and in singing. [He] really keeps people on their toes. And, it goes without saying, he's a genius. Every time I was there, I was blown away by his ability to deliver a monologue he had written the day before without looking at notes.
I think that Chris Thile is an alien when it comes to music. He is probably one of the world's greatest musicians. I admire Chris and his dedication and tenacity and he pushes a lot of boundaries, too. Ultimately, everything he does is of very high quality and I think he's going to be great on Prairie Home Companion. He's going to make interesting choices musically and I can't wait to see what he does.
Photos: © Annalise Kaylor