Article
Margo Price: Nashville's Neo-country Badass Earned Her Place at Third Man Records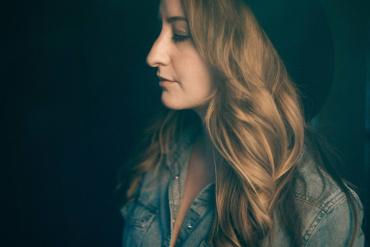 Margo Price's wedding ring has a crack in it. Not the ring itself, but the diamond in its setting. The hairline flaw limited the amount of money she could borrow against it at a pawnshop, but she used that money to self-finance some sessions at Memphis' fabled Sun Studio for her forthcoming album, Midwest Farmer's Daughter. Jack White's Third Man Records is set to release the disc March 25.
"I was a little sentimental about it," Price says. "After we recorded, my husband [and bandmate Jeremy Ivey] got it back without telling me and surprised me with it later."
It may seem like a risky gamble, especially considering she and Ivey have a five-year-old son, but it wasn't entirely a crapshoot. Price has existed in Music City up-and-coming status for years, and she's made some influential friends along the way, some of whom think she's finally on the verge of breaking through. Americana superstar Sturgill Simpson sat in with her band, Margo and the Price Tags, for a one-off before his career exploded in 2013. Last fall, Rolling Stone Country dubbed her one of "10 Artists You Need to Know," describing her sound as the lovechild of Tammy Wynette and Elliott Smith, and suggesting that fans of Justin Townes Earle check her out. She's undoubtedly carved out a niche for herself among the East Nashville singer-songwriter set that includes heavy hitters Elizabeth Cook, Joe Fletcher, and fellow emerging artist Aaron Lee Tasjan, who independently released his critically acclaimed first solo LP In the Blazes last October.
"She's doing it on a certain level that continually sets herself apart," Tasjan says. "She's a singular and vital part of this scene, as a thing unto herself."
But for Price, the road to winning such high praise and establishing herself professionally was paved with enough adversity to fill a Stephen King novel. A childhood heavily shaped by her family losing their Illinois farm led to further financial struggles in adulthood. Like many aspiring singers, over the course of 12 years chasing a music career in Nashville, Price has held a colorful series of odd jobs, including waiting tables at restaurants and beer halls around town, installing and removing residential vinyl siding, and scooping popcorn at the Belcourt. She also worked as a children's dance instructor at the YMCA, a preschool teacher at a Hispanic church, and, most recently, a retail clerk at the Goodbuy Girls in East Nashville. In addition to pawning her wedding ring, she and Ivey also sold their car to fund her pursuit of a music career. In terms of what else would come their way, these trials were comparatively small.
Price dropped out of college to move to Nashville in 2003, when she was 20, and lived with a cousin in Antioch. "I had written some songs that I thought were pretty good," she says. "But when I started hitting up the open mics, I quickly realized I needed better songs."
She consulted her great-uncle Bobby Fischer, a successful Music Row songwriter who's penned cuts for George Jones, Conway Twitty, Charley Pride and Reba McEntire, among others. "He said, 'Throw away your TV, throw away your radio, and you sit there, and you write and you write,'" Price recalls. "Well, I had recently totaled my car, so I didn't have any way to get around. So, I was alone in this apartment for a month, and I did what my uncle said — I wrote songs."
The songs were an improvement, she says, and she emerged from writing sessions energized. She met Ivey at a party near Belmont University, and soon joined his short-lived band River Bottom as a drummer. In 2007 they relocated to East Nashville, where they've been ever since. They've played in several bands together, including Secret Handshake and Buffalo Clover. They also served as the rhythm section in Lilly Hiatt's band in 2009 and 2010.
Not surprisingly, Price, 32, often writes about life's cruel twists and unjust turns; her matter-of-factness conveys an enduring humility. She tempers her realism with an understated ease that loudly speaks to a time before Music Row relied on Pavlovian formulas, calculated by radio programmers and label executives. Price has a polished, outlaw glow about her in the vintage clothes she often wears on stage and off; a hint of girl-next-door refuses to yield to any number of tattoos that might be visible at any given moment. Like many of country music's women of yesteryear, her voice pierces through the thickest pedal-steel teardrop and effortlessly slips through a chameleon repertoire of catchy rockabilly stompers and soulful country ballads that she deftly modernizes. She laughs easily, but in no way is she fool-hearted. Like Ivey, she carries with her the loss of their son's twin brother, who died two weeks after his birth. She also carries with her an unthinkable lesson learned in 2005, when a person of influence within the music business invited her to his house under the guise of a business meeting and, she says, slipped something into her drink and tried to prevent her from leaving. She escaped unharmed, and references the encounter in the Farmer's Daughter cut "This Town Gets Around":
Well, as the saying goes
It's not who you know
But it's who you blow
That'll put you in the show
And if that's not the case I hear you pay 'em
"That line goes back to him," Price says. "I'm a very independent woman; I'm almost brave to a fault. So I learned pretty quickly that I had to be careful."
Her resilience through these adversities comes through in her work, says Tasjan. "I think one of the things that makes her so special is that I've never heard her once complain about any of that — ever," he says. "She kind of levitates within what she's has had to deal with in her life, and you can hear that in the way she sings — it really comes across."
In September, Price signed with Jack White's Third Man Records, making her the label's lone local country artist. Announcing the album, the label wrote: "And, while we could wax poetic for days about how much we love this record (and how we think Margo is here to save us all from the Starbucking of America with her stupefying voice that could tumble buildings and how her songs have one foot firmly planted in Nashville's past and their whole heart somehow gracefully existing in 2015), instead we'll let the music do the talking."
Price first met White years earlier, in 2007, by happenstance. "He was walking down the sidewalk in Berry Hill, and he said, 'Hello,' " she recalls. And I sort of blurted out, 'I saw you at the Ryman last night with Bob Dylan! I'm a singer-songwriter and I've been covering 'One More Cup of Coffee' for a long time, too, and you played that last night.' I reached into my purse and handed him a CD of my music. I wonder if he remembers that encounter."
See concert coverage from Margo Price's release party for her new single, "Hurtin' (On the Bottle)."