Interview
British Folk Rock Then and Now: A Chat with Ashley Hutchings and Maddy Prior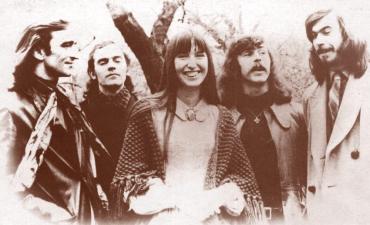 For a brief moment in mid-August it may have seemed as if the British folk and folk-rock scene of the late-'60s to mid-'70s had time-warped into the new Millennium. On display were Fairport Convention, the founders of British folk rock, Steeleye Span, their heavier, rockier cousins, and Ralph McTell, the quintessential folk singer of that earlier period.
The venue was Fairport's Cropredy Convention, the band's annual festival in the England's Oxfordshire. The festival - which mixes many genres - always brings in various folkies, but it struck me this time that theses three acts just about summed up an era.
British folk-rock - the melding of old tunes about witches, knights, highwaymen, goblins etc with rock bass riffs, soaring vocals and wild electric fiddle and guitar - is still popular as a genre in some circles and others have picked it up recently. But back around 45-years ago - when Hendrix, Cream and Pink Floyd were also blowing minds - young British adults were gripped by this rock-based nostalgia for a mystical past.
Fairport more or less invented the form and their 1969 album "Liege & Lief" (produced by Joe Boyd) is often in lists of most-influential albums of  all time. Steeleye took it further down the rock route, and while they may not have been as initially influential they have pretty much matched Fairport in popularity. They have recently taken it up a notch. McTell, meanwhile, made folk music politically relevant to that new generation with his "Streets of London",  a psalm to Britain's homelessness and decline.
The best way to understand why that period engendered the new genre is to ask. So I did,  spending a bit of time with Maddy Prior, the long-time lead singer of Steeleye, and Ashley Hutchings, the founder of both Fairport and Steeleye (as well as The Albion Bands and its various spinoffs).
Prior says that shifting from folk to rock was not as strange as it might seem to some today. It was a natural progression.
"We went to folk clubs (at the time) because it was cool," she said."It was its time. Dylan had done his electric in America."
Hutchings, too, says the move to British folk-rock was partly inspired by Americans. The earliest  Fairport, for example, was a band playing things along the lines of The Byrds or Dylan. He says they were essentially "aping the Americans".
But these Americans - he also cited Joan Baez and Julie Felix - meant that the door was open for their great experiment. "The British public did not find folk music alien," he said. But there was no great plan to create a new genre.
"We did not say initially 'we want to invent folk-rock. We wanted to make English rock, Therefore we had to go back to our roots. It was so exciting. No one had done this before," Hutchings told me.
His move from Fairport to Steeleye was about innovation, he said, taking what had been done and changing it again. His motivation appears always to be "coming up with something different".  He is still at it. A few years ago he published "Words, Words, Words", a book of writing poetry and song lyrics, and he is currently touring Britain with "From Psychedelia to Sonnets" - an evening of stories and song basically telling the take of his life.
As for the future, both Hutchings and Prior reckon the genre they helped create will thrive. Prior, for example, believes her kind of folk rock is now just part of the mainstream in a world where everyone tries everything.
"It's had its duration because the people came with us," she said. "There is so much more music now (that) every bit of music is a genre."
She noted that the music is also relevant to a new generation in Britain - which is reeling from years of watching the rich get richer and leaving the rest behind creating what she said was a disenfranchised workforce". For example, one of Steeleye's best songs - "Long Lankin" from the 1975 album "Commoners Crown" - is about a rich man warning his family to be careful while he is away because (at least in the original folk version) there is an angry worker, a mason, on the rampage. It does not turn out well.
Hutchings, meanwhile, sees the genre melding into just about everyone else.
"Folk will simply be assimilated into rock," he said, noting that most rock performers now add a bit of acoustic guitar into their repertoire, often folk. Big rockers like Sting, Robert Plant and Bruce Springsteen have already been doing it for some time.