Album Review
A Musical Beacon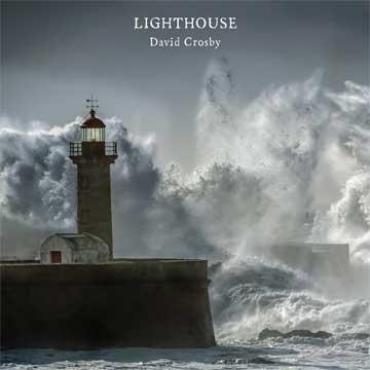 "I can't explain how I even have a voice, after all the bad things I did to it," David Crosby said in a recent New York Times interview about his latest release, Lighthouse, released Oct. 21 on GroundUP Music, producer Michael League's label. He says he's singing as well as he ever has, and the evidence backs him up.
Recorded in just 12 days with Snarky Puppy bassist/ bandleader Michael League, who also co-wrote most of the songs with Crosby and produced the album, these nine cuts present the 75-year-old singer sounding like he did decades ago.
It's a pretty album. Crosby and League provides most of the music on acoustic and electric guitars, with a little help on from vocalist Becca Stevens and some keyboard contributions from Cory Henry's organ and Bill Lawrence's piano on a couple of cuts.
"Paint You a Picture" is a mellow, folky torch song, which might be equally at home in a late night cabaret setting or with a solitary spotlight illuminating an unplugged folkie on a stool. However, its lyrics would fit a classic country drinking song:
I thought we'd be together, but I thought wrong...
Guess what I'm drinking
the first guess doesn't count
the bottle's almost through...
let me paint a picture of you.
This stylistically hybrid concoction is a result of a collaboration with Marc Cohn, Tracy Chapman's former pianist who came his own with 1991's Grammy-nominated "Walking in Memphis." He wrote the lyrics and Crosby composed the music.
"The City" is a bit more complicated, melodically and lyrically. League told Crosby he wanted to write a song about New York City, as if it were a woman. The song starts off with a nervous, stacatto acoustic guitar, Crosby's wedding band providing the only percussion as its metal rattles against his guitar. When the chorus comes around, the song suddenly blossoms into a celestial choir of harmonies, reminiscent of Crosby, Stills & Nash. But once again, the lyrics are a sharp contrast to the gorgeous harmonies:
Beauty by day, danger by night
Ain't it a bitch to see
That the only city I could ever really love
takes the time to step on people like me.
Surrounded by lush acoustic and electric guitars -- and Crosby's still-magnificent voice -- the singer addresses a woman a bit closer to his heart on "Things We Do For Love," which he wrote for his wife Jan.
As pretty as this album is, there's also plenty of substance to it. Crosby doesn't shy away from controversy -- he addresses social and political issues head-on, as he has throughout his career. "Look in Their Eyes" is about the Syrian refugee crisis. It was inspired by a friend of Crosby's, a member of the Human Rights Watch, who helped pull a thousand refugees -- dead and alive -- from the water in one day. Sounding like '70s-Deja Vu-era CSNY, Crosby and his group harmonize soulfully over the chilling lyrics:
Raft on a shore
tears in the surf
stranger in a strange land
surviving since birth.
All told, this disc is more than just a comeback. It sounds and feels like Crosby never left.