Interview
Boots With Roots: Gillian Welch Goes Back to the Beginning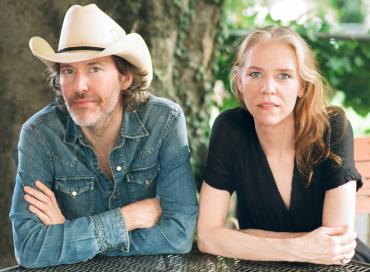 "I never have really felt part of the real hubbub of the moment," Gillian Welch admits. "There's something that sort of makes me feel like I'm more attached to things that have gone by... as if I'm on some parallel other track."
It's not so surprising to hear Welch describe her ties to the past. After all, she and her musical partner Dave Rawlings have always made music with an archaic feel, a tempered, low-lit sound that strikes at the very core of traditional music as it's been brewed in the heartland. It moots most traces of a modern sensibility and opts instead for a rustic sound associated with old time folk music, an unapologetic bow to past precepts and to archival arrangements that depend on little more than the sound of strummed guitars and a pair of voices singing in harmony.
When Welch and Rawlings first joined forces and made their move to Nashville in the early '90s, it seemed well removed from Welch's musical beginnings in California where she played bass in a goth band and drums for a psychedelic surf outfit. Yet when a roommate introduced her to the sweeping sound of bluegrass, she was immediately entranced. From that moment on, she never looked back. Although it took awhile to spawn their first album -- a tack they've taken throughout their career, especially as it reflects on the extended amount of time they take between albums -- the duo made an immediate impression once they released Revival, their auspicious debut. Signed to Almo, a newly-established independent label, and with famed producer T Bone Burnett behind the boards, the album received enthusiastic reviews, a Grammy nomination for Best Contemporary Folk Album (it lost to Bruce Springsteen's The Ghost of Tom Joad) and a nod from Emmylou Harris who covered the album's lead track, "Orphan Girl." 
The pair would go on to record six more albums over the course of the next two decades -- four under Welch's name -- Hell Among the Yearlings, Time (The Revelator), Soul Journey and The Harrow & The Harvest -- and two under the banner of the Dave Rawlings Machine -- A Friend of a Friend and last year's Nashville Obsolete. They also played a crucial role in the recording of the breakthrough soundtrack album for O Brother, Where Art Thou?, singing and co-composing several of its songs. Welch received a credit as the associate producer and the album itself garnered significant sales and a Grammy Award for Album of the Year
While Welch and Rawlings are never ones to rest on their proverbial laurels, their latest project does find them looking back in hindsight with a collection of early unreleased songs, demos, and alternate takes, many of which were originally intended for inclusion on Revival. Twenty years after the release of that landmark debut, the 21 songs and two discs that encompass Boots No. 1: The Official Revival Bootleg make for a fine companion piece to the original album, as well as an intimate glance at two musicians in the formative years of an evolving career.
For her part, Welch is clearly delighted with the results and especially fond of both the music and the memories it brings to mind. She spoke with me about the project from her home in Nashville the day before Thanksgiving, sharing a few impassioned observations about the origins of the material and their mindset at the time. 
Lee Zimmerman: It must have been a real joy to revisit these songs from such a nascent time in your career.
Gillian Welch: I would say the real pleasure of rediscovering this material was that once we started listening, and really got into it, it sort of became clear that there was a whole other parallel version of the record. It was Dave's idea to sequence the two discs in a way that made each an alternate version of the album, so both discs are structured to relate to Revival. The hope was that they would become stand-alone records on their own. We were going for listenability more than archeology. We wanted to be able to put it on and listen to it like a record. I own some archival releases that, while I like the material, you can't really put them on and listen to them. It's more of an educational experience. It's often out of sequence, where they just keep putting multiple takes next to each other. We didn't do that. The other thing that was really governing us was just trying to turn off our critical, editors/gatekeeper's mentality and, emboldened by the 20th anniversary mark, just try to be generous knowing that, yeah, these didn't make the record. There was a reason why every one of these tracks isn't on Revival. But it doesn't mean there isn't something of interest in them. So that's how we proceeded.
There were more than 30 tracks up for consideration? 
Yes, I came into the session with a cassette that contained 32 or 33 songs. I can't remember exactly, but I remember sending T Bone that cassette tape and having a phone call. I was in my kitchen and going through all the songs with him. It wasn't a big, in depth conversation. Then we just got in there and just started playing them and it took the whole first week of the Revival sessions at Sunset Sound in L.A. We got as many songs as we could as a duet. It's not like now, where I say, "Oh, Dave and I have recorded as a duet and we have this whole known sound and whole known way of recording. Nothing is known. Dave wasn't even playing his Epiphone yet. That was part of day one. It was, "Hey, let's try some guitars, let's try some microphones." I really have to credit Rik Pekkonen who was the engineer on that stuff. He came up with the way we still work decades later, what we call our duet rig. 
The new album is subtitled Boots No. 1. So can we expect an ongoing series of archival releases, perhaps to coincide with the anniversary of each succeeding album? Do you think you will continue this tactic?
So far, people seem excited about this idea of tapes from the vaults. There seems to be enough interest. I can't go ahead and say, "Yes! Absolutely!" but we do already have a number-two earmarked, even though we're not really thinking that we'll go chronologically. That seems to be an unnecessary straitjacket. So it will [be] non-chronological, but I do think it would be a nice thing to hit some of the major anniversaries. 
As far as the songs that didn't make the cut this time around, is there still the possibility they'll be included in future editions
Doubtful. Like a Revival compendium 2?
Perhaps, or maybe integrated into future editions.
I really think from this time period that we just put the best stuff on this thing. I don't think there are too many more hidden gems. It's not everything. For instance, there's some really nice live things, but we decided not to delve into the live recordings because we couldn't get them to sit alongside the studio stuff aesthetically. There are more unreleased songs from this time that we used to play live, so if we find a really exemplary live show, we could put it out in its entirety. Something pre-Revival. There are some really nice early shows, so that could happen.
You haven't had a live album yet.
No, we don't have a live album. This is why we're starting to go through the vault with our archivist and see what's in there, and the idea of hitting some of these anniversaries will keep it going. 
You seem to have emerged fully formed. As soon as you made your bow, you gave the impression you already had your sound down. The songs are so genuine like actual traditional tunes from the heartland. How were you able to affect that?
Just hard work I guess. It was what I was trying to do. That was the point. That was the goal. That's what I expect of myself. It's like asking a writer how it is that they express themselves. Well, that's the form my thoughts take. It's really hard to express yourself. There's a reason artists make art. It's that need. There's some driver that makes you think you'd rather do it than not.
Courtesy Gillian Welch
But with most artists and writers there's an evolution. They don't start out at their peak. It's a slow process.
There was a process and we're showing that to you here. That's partially revealed in this bootleg record. You can see I'm not quite sure of what I'm doing. I don't know what you would call it, but I'm not quite as focused as I would get. This was a kind of a showing behind the curtain. We were very young people who had done very little recording, This was the first time I had really been in a studio for more than half a day [laughs]. That is what's on this. 
Even early on, you seemed very meticulous about your craft.
That is true, although I sometimes feel like musicians rush unnecessarily to put things down on a record and then put it out. I think it was to our advantage that in '92, '93, '94, '95 we did not make a record. We sort of could have... certainly by '94. Two years before Revival came out, there was enough stuff to make a record. But it wouldn't have been Revival. We were honing in on it. I will say that as messed up as our output is -- we make records too slowly, and I know that and Dave knows it too -- that there are things we do that helps get it right. 
Speaking of which, it's been five years since your last album.
Yes, since mine, but of course we made a Machine album last year.
So how does the branding go back and forth between your albums and the Dave Rawlings Machine albums? Why not just brand it all together? Is it a matter of who takes the lead? What's the crossover connection?
The idea is that it lets us broaden what we're trying to do, which is always our goal because when you simply record as a duet, it's not very broad. It's pretty focused and it's pretty intense. And there's other things we want to try. Part of it is that the Machine enables us to perform in a more varied way. I don't know. Nothing really changes around our house. It's still notebooks and pens, and things don't look any different when we're writing for the Machine. It's just different kinds of songs. And Dave's microphone is turned up a little louder (laughs). 
You set such a high bar for yourselves early on. You had a kind of instant success, Emmylou Harris covered "Orphan Girl," you were getting all kinds of notices from that first album on. That's great, but did you feel pressure then to meet that standard with each successive effort, and if so, wasn't that an enormous amount of pressure to deal with so early on? 
Yeah, it was hard. Nothing is ever the same after your first record [laughs]. It just isn't, but everybody deals with it. Everything changes. There's just a whole other facet to it. I said before, and I can't believe I put it so succinctly, but before that record there was no me. And then there was. I never had to contend with myself. You were just contending with the world, and then suddenly you have this whole new thing and then you have to contend with yourself.
And with expectations...
Yeah, and it's this whole different thing. I'm not sure I handled it particularly well. It may be why years go by between my records. But I'm okay with it because I know that even when we don't put a record out into the world, we never stop. The whole time, I'm writing and we're writing and the process is evolving. It would be one thing if I felt like nothing was happening in those times when the world doesn't hear from us, but I know otherwise. That's the really important thing. And then when the pressure cooker hits its pressure point, and I feel like I have to put something out in the world, it happens. Particularly now, in this current record industry climate, there's all the more reason to only do it when it's artistically correct. 
That's what should happen, no? Isn't that the definition of an artist?
It is what should happen. It's a tricky thing. I didn't really set out to do that. That was kind of a by-product, and as Dave often says, I was just trying to write a song that was good enough so that Ralph Stanley could sing it. It's that basic and I guess if you are of the artistic bent, then so much more of yourself than you even intended goes into it. When I was writing "Orphan Girl," I didn't even know it was about myself, believe it or not. I was just trying to do this thing. I've done this before and it's one of the great things about having a writing partner that you have so much faith and confidence in that Dave is aware of the deep personal meanings of my songs before I am, and he's there to make sure they get amplified and they don't get erased before I see them. That's just one of the workings of our 20-something writing relationship. 
Gillian Welch's Boots No. 1: The Official Revival Bootleg  is available now via Acony Records.