Album Review
Sherman Holmes Solos With Friends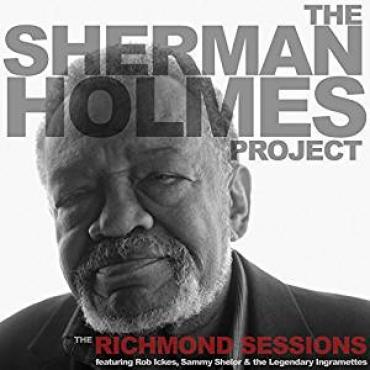 When it first starts up, you might think somebody's stuffed the wrong CD in the sleeve. Whats a banjo doing on a Holmes brother's record? The first cut is labeled "Rock Of Ages," and that's Sherman Holmes' unmistakable rumbly baritone on lead, although with dobro and fiddle joining in, it sounds like an outtake from O Brother, Where Art Thou?
It's a new chapter in the Holmes Brothers' legacy. Brother Wendell and drummer/vocalist Popsy Dixon passed away in 2015, and surviving member Sherman is determined to carry on, on a slightly different path. The Holmeses always mixed things up, blending secular and gospel in a way that blurred the crossover line, and Sherman has continued that tradition here, just in a more radical way.
That first cut, "Rock of Ages," features dobroist Rob Ickes, who has has worked with a diverse palette of artists from Merle Haggard to David Lee Roth, and Lonesome River Band leader Sammy Shelor on banjo backed by the celestial sound of the Ingramettes, purveyors of rollicking, soul-shifting gospel and beatific family-style harmonies.
The album is a result of Holmes' joining a 2014-15 state-run program in his native Virginia to provide mentorship for young musical students. John Lohman, director of the Virginia Folklife Program at the Virginia Foundation for the Humanities, was so moved by Sherman's performance with his apprentice and his solo turn afterwards that he proposed producing a solo album for Sherman.
Its all over the place. Vince Gill's " Liza Jane" is completely revamped from Gill's upbeat country rocker to a stark dirge with Ickes' Dobro moaning underneath Shelor's skeletal picking and Sherman's doleful delivery.
"Don't Do It" is more like the Holmes Brothers sound, the Holland-Dozier-Holland tune that The Band rock/folked up bouncing around funkily here with chicken-pickin' guitar from Jared Pool, some churchy Ingramette backing, and Sherman sermonizing with crusty, soulful vocals.
Dan Penn and Chips Moman's "Dark End Of The Street " is the ultimate test of a soul man's pedigree, the bar set impossibly high by James Carr in '66, then Percy Sledge in '67, and also by a soul-shattering version in '89 by the relatively unknown James Thunderbird Davis from Check Out Time. Sherman holds his own with the big boys, long-time Holmes Brothers collaborator Joan Osborne harmonizing ethereally on the choruses.
Ben Harper's "Homeless Child" manages to sound like a back catalog Holmes Brothers treasure while incorporating the newly minted bluegrassy feel as well. Ickes' Dobro slides greasily over and Shelor's banjo skitters around the relentless funk as Lohman's harp sneaks in and out, wailing mournfully, the Ingramettes scalding the paint off the mics with gospel fervor on every turn.
Although it follows a different path, it leads to the same satisfaction the Brothers brought forth on every outing. Thanks for sharing, Sherman.