Album Review
Sharon Jones' Soulful Finale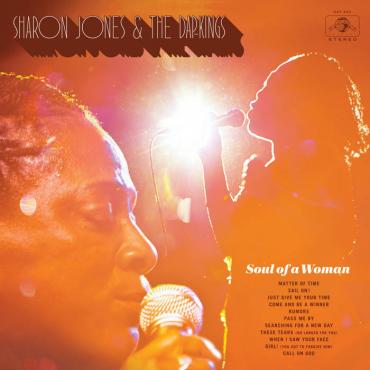 Everybody in the music business told Sharon Jones she was too much. "They told me I was too dark skinned, too short, too fat; and once I got past 25, they told me I was too old," the fiery soul singer said. She tried to start a singing career in Brooklyn, where her family had relocated from her Georgia birthplace, but she didn't fit the '70s mold promoters were looking for. But Jones never gave up, working day jobs riding shotgun for Wells Fargo and as a corrections officer on Rikers Island while playing nights and weekends with with a Brooklyn-based wedding band for nearly two decades. In '96, she got a job doing backup vocals for soulman Lou Fields for a small funk label, Desco. Her vocal prowess soon got her a lead slot touring the UK with the label 's house band, the Soul Providers. The Providers morphed into the Dap-Kings in 2001 with Dap Dippin' With Sharon Jones and the Dap-Kings, and Jones got her second chance at stardom. This time it took, and the 4-foot-11-inch singer rode it hard, backed by the Dap-Kings' blistering funk and deep dish soul. Jones and the Dap-Kings recorded seven albums, earning a 2015 Grammy nomination for Best R&B record with Give The People What They Want before her death from pancreatic cancer at 60 in 2016.
This latest release, culled from a couple of years of studio sessions, shows Jones at her fiery, soulful best. "Matter of Time" embraces Irma Thomas' powerhouse heartfelt soul delivery, the Dap-Kings propping her up with a funky wall of sound as well built as the JB's.
https://www.youtube.com/watch?v=ipynkBxtMOc
"Sail On" has Jones taking the paint off the walls with a delivery like Etta James, clawing and scratching, shredding the musical fabric to shreds.
"Just Give Me Your Time" drips Stax '60s soul, an in-your-face rebuttal to those in charge back then who rejected her.
"Rumors" sounds like a '60s girl group, a funkier version of the Shirelles. This cut, and a couple of others, barely clocks in past two and a half minutes, but saying what you gotta say in under three and getting out is an art form that used to be the golden rule for 45s, and this one would have stood the test on those vinyl platters.
Producer bassist Bosco Mann said that the original plan was a mellower record to tour in support of, but when Jones' time grew short, they tried to capture the fiery live side of her as well, splitting the album into mellow and not so. Jones never really backs off of anything; it's just that some are a bit softer in tone, like "Pass Me By," which sounds like Mary Wells backed by Curtis Mayfield's guitar.
"When I Saw Your Face" is about as vocally relaxed as Jones as ever been, somewhere between Martha Reeves and Roberta Flack, a gorgeous outpouring of mellow '60s soul.
There's no other place but the closing spot for Jones' original, "Call On God."
https://www.youtube.com/watch?v=1Ru-McU1zig
Nobody could or should follow this one.  Backed by the The Universal Church of God Choir, Jones puts her all into a soaring soulful hymn of worship that'll break your heart and lift your spirits. It obviously provided her with solace in her final days, and passing it on is in the spirit of everything that Jones did, giving her all for others to enjoy.