Live Reviews
Worldwide concert reviews
A front-row seat at the latest shows at top venues in the US, UK, and Canada, delivered fresh by our correspondents. (Writers: Apply to be a correspondent.)
The Gibson Brothers

at Red Clay Music Foundry on

February 27, 2015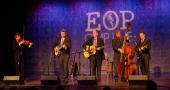 The Gibson Brothers have won so many awards it would be ridiculous to name them all here. Suffice to say, if you had to choose to hear only one bluegrass band perform live in your entire life (and what a sad choice that would be -- only one!), then this would be the band. On a night when three-...
Shivering Timbers

at Music Box Supper Club on

February 28, 2015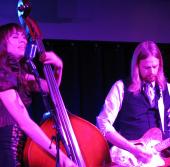 Patrons of the Music Box venue packed the main floor's Supper Club to hear Shivering Timbers, another little band from Akron, Ohio, with two polished entertaining sets Saturday night as part of the club's Lucky Seven Concert Series. Although the husband and wife team of lead singer/upright bass...
Olivia Chaney

at The Dakota Tavern on

February 10, 2015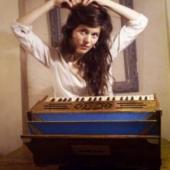 Anyone who mixes a little Monteverdi with a harmonium and Joni Mitchell is guaranteed to get my attention; when that person is a compelling, adventurous young performer, I'm sold. Olivia Chaney played to a transformed Dakota earlier this month, a rare treat for a North American audience anxious to...
Circle of the Song

at Club Passim on

February 22, 2015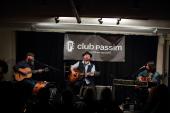 Featuring Seth Walker, Ed Jurdi, Edward David Anderson. Collaborations like The Circle of the Song, featuring Seth Walker, Edward Davis Anderson, and Ed Jurdi, are becoming increasingly common. And, judging by this show, that is a very good thing. Take several musicians who approach music...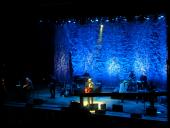 Drew Holcomb is an interesting case study. Though he crafts readily accessible melodies, he doesn't pander lyrically to the lowest common denominator. He's not up there singing, "Oh, baby baby." He's singing about gratitude for a lost love, acceptance of personal vulnerabilities, and respect for life's challenges. And that's how he started his sold-out show at Ryman Auditorium last Saturday night, with the exquisite contemplation that is "American Beauty." Armed with six guitars, four basses, and some of the tastiest drum licks this side of the Mississippi, Holcomb — with guitarist Nathan...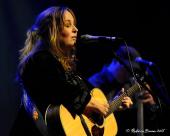 Downtown Franklin, Tenn., provided the perfect setting last Friday night for Gretchen Peters' album release party/performance. Like the record, the town's Main Street is charming, pristine, and just a little bit out of the way. And, also like the record, the performance was refined, restrained, and just about perfect. As she made her way through almost all of Blackbirds, Peters and her band (Barry Walsh on piano, Doug Lancio on guitar, Dave Francis on bass, Nick Buda on drums, and David Henry on cello and mandolin) did an amazing job of recreating the subtle sophistication of the recording...