Live Reviews
Worldwide concert reviews
A front-row seat at the latest shows at top venues in the US, UK, and Canada, delivered fresh by our correspondents. (Writers: Apply to be a correspondent.)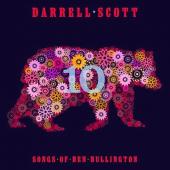 Darrell Scott's name was first of the bill. After all, it was his CD release show. He played first and he led the final song. The show was billed as Darrell Scott and Friends, and what a group of friends it was that crossed the stage at the City Winery in Nashville -- big names and big...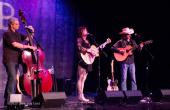 Suzy Bogguss makes it look easy. After 25 years in the business and more awards than you can shake a stick at, you'd expect that. But watching her on stage you get the feeling she was born for this and feels most comfortable in front of an audience. She was loose, smiling constantly. With the...
Barnstar!

at Club Passim on

May 17, 2015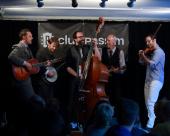 I will go out on a limb and say that Barnstar! (yes, the exclamation point is part of their name) is one of the most fun bands you will ever see perform. The raucous energy emanating from the stage coupled with their talent created a show that thrilled the sold-out audience on this night....
Mark Erelli, The Western Den

at Club Passim on

May 16, 2015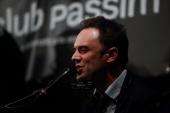 Does it take a lot of guts to get on stage and present a set of material so new that some of the songs have no name? Or does it merely take confidence in one's ability as well as trust in one's fans? I believe it took all of that in order for Mark Erelli to perform entirely new material to a...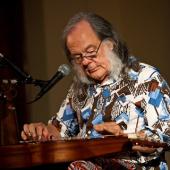 Saturday night (May 15, 2015) at Lilypads, a small venue in Peacedale, RI, roots fans had a rare opportunity to see and hear legendary guitarist David Lindley. The show was an unparalleled success, complete with brilliant musicianship, singular storytelling, and offbeat humor. David Lindley David Lindley is not your typical folk artist. There's not a long line of albums released in his name, he's not a prolific songwriter and he doesn't tour much. He's a sideman, regarded as one of the best guitarists in the business, and has toured and recorded with pretty much...
During my childhood in the 1960s, Lulu was a huge part of my musical education. It wasn't just her singles that I adored, but the cool albums I eventually inherited from my brother, and especially her Saturday evening TV shows, where Jimi Hendrix famously stopped mid- "Hey Joe" to dedicate an under-rehearsed "Sunshine of Your Love" to Cream, who had disbanded earlier in the week. Earlier this year, Lulu released her 20th album, Making Life Rhyme, which meant that this would her first Tour for 10 years. As a special treat for Mrs. Rocking Magpie, tickets were organized. With no...