Live Reviews
Worldwide concert reviews
A front-row seat at the latest shows at top venues in the US, UK, and Canada, delivered fresh by our correspondents. (Writers: Apply to be a correspondent.)
Marshall Crenshaw and the Bottle Rockets

at The Birchmere on

January 30, 2015
Alchemy, the mythical chemistry by which base elements were transmuted into gold, is a common practice in Virginia. In fact, on any given night at The Birchmere, it happens live on stage, in one of the nation's most historic...
The Thompson Family

at City Winery on

January 30, 2015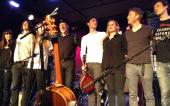 Richard Thompson was the reason most of the people in the sold-out house were at City Winery NYC on a cold Thursday night, but Teddy is the Thompson to thank for these shows and the excellent album for which they're spreading the word. Family, produced by Teddy and featuring his...
Alyssa Bonagura and Friends

at 3rd & Lindsley on

January 30, 2015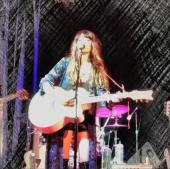 The show ended with a crowded stage and The Beatles' song, "A Little Help from My Friends". Perhaps it was a predictable song for an "and Friends" show, but when you have friends (and family) like Alyssa Bonagura, you can get away with a moment of predictability. Bonagura, at 26 years old...
maria muldaur, Steve James, and More

at Freight & Salvage Coffeehouse on

January 28, 2015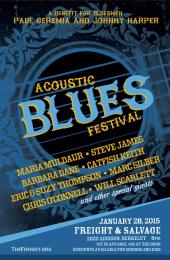 Two highly respected bluesmen who've worked tirelessly to support, foster, and master the acoustic blues form and history, Paul Geremia and Juke Joint Johnny Harper have been faced with serious health challenges in recent months. As Geremia recovers from a stroke suffered last fall and Harper...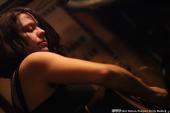 There was a time when playing music live didn't involve running miles of wire from banks of foot pedals to instruments and amplifiers. Steph Cameron recently released a fine solo debut album that harkens back to that time: recorded in three days, the album features only Cameron on guitar and harmonica. Last Saturday, she and Joe Nolan played a show at Vancouver's Railway Club that saw both playing solo sets in about as pure a musical environment as you'll find: a single microphone and about as little amplification as you can really get away with.  By the time Cameron kicked...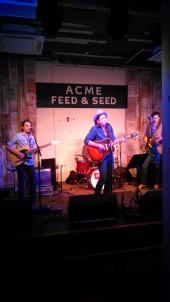 Despite all the evidence to the contrary, Nashville is still a town to elicit excitement. Say what you will about the glut and glitter of the Kentucky Fried anthems saturating the airwaves overhead, or the mediocre imitation of the like that blares forth from every paint by number juke joint down in the bowels of Broadway. There is still a lust to be found here. Nevermind the snakeskins yet to be broken in on denim clad tourists. Cutting a path through the teeming streets, one can still sense the inarticulate longing for everything grand and timeless that can be harmoniously plucked from six...