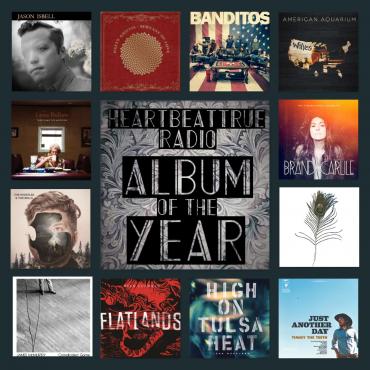 2015 was a great year for music. There were so many fantastic albums that came out this year. With the music industry going through so many changes over the last decade it feels now like a lot of artists have shown they can conquer this new music world and have really hit a groove.
All these "Best-Of-The-Year" lists are great. Not because they validate an artist's work but because you can discover something that you missed all year, or take another shot at an album and realize that now you are ready to listen to it. There's a lot of potential to open yourself up to some really meaningful music. That being said here's our HeartBeatTrue Radio Album Of The Year list. Enjoy!  
You can also just scroll all the way down the page to get to the link to our "2015 Album Of The Year" radio show on Mixcloud.
THE LONE BELLOW - Then Came The Morning
After their first amazing album you had to wonder if The Lone Bellow would fall to the infamous "Sophomore Jinx" where most artists fail to match the strength of their debut album. What they did was make an album that was beyond expectations, way beyond. "Then Came The Morning" was the full expression of wonderful.
PATTY GRIFFIN - Servant Of Love
This album took me a while to get an understanding of. I liked it. It is powerful but I couldn't quite grasp it. Then after a few weeks and a few listens it started to make itself felt.  With "Servant Of Love" Patty created an album that knows you better than you know yourself.
THE WHISTLES AND THE BELLS - The Whistles And The Bells
This album was re-released in August of 2015 by New West Records and was originally released independently in 2014 so technically it is not supposed to qualify for an album of the year nomination for 2015. Well too bad! The Whistles And The Bells is a triumph.Not only is this one of the best albums of 2014 and 2015 it's going to be one of the best of 2016 too. At least until March. Maybe April.
 JASON ISBELL - Something More Than Free
This album is sure to take home lots of awards. It has had a lot of sales success topping the charts. I am 99% sure everyone reading this list already has a copy of this album and you know as well as I do that the awards and record sales are not what makes this album important. It's the fact that every songster out there has played some of these songs during a set or at a party with friends. In the future it will be as common to hear covers of "24 Frames" and "Children Of Children" as we now hear covers of "Atlantic City" and "After The Gold Rush". 
BRANDI CARLILE - The Firewatcher's Daughter
This album clicks. Sonically, lyrically, production, Brandi's voice! The harmonies! Mercy!. It all swings and flys, but it's also like you would rather not talk about all that. It's too good to go into all that critical stuff. You know that music doesn't come together like this very often.
BANDITOS - Banditos
Banditos prove Einstein's Second Theory Of Relativity. Which is this, "All great rock n roll is also great country music as is all great country music is also great rock n roll." The only drawback with this album is that I only own it digitally. Don't get me wrong this album overcomes the digital, but the thought of this album on vinyl makes me absolutely drool.
GREAT PEACOCK - Making Ghosts 
All I kept thinking when I was listening to "Making Ghosts" was all the people I knew that would love this album. No matter what your leanings are in the spectrum of music Great Peacock will make you like them. This music has the power to connect with a lot of people. Can't miss this one.
JAMES McMURTRY - Complicated Game
This album just isn't fair. From the very first line, this album shows that you are not as good a songwriter as James McMurtry. Then it just keeps getting better and stronger as the album progresses. This is the definition of a touchstone album that other projects will be judged against for years to come.
AMERICAN AQUARIUM - Wolves
Lying in bed in the hospital after surgery the nurse told me about my restrictions. I asked if I could go see a concert in a few days. She asked who and I said, "American Aquarium!". She did not know who they were and I guess 'cause I was still woozy from the anesthesia I proceeded to tell her all about how great an album "Wolves" was for like 10 minutes. Track by track. By far my most recommended album this year.
JOHN MORELAND - High On Tulsa Heat
This album got me in trouble. Living on a budget means being patient getting new music sometimes. Well the wife asked me why there was a charge on the account when she clearly told me not to spend any money until the next paycheck. I apologized and said I wouldn't do it again. But I was lying. For this album I would risk my wife's wrath every time. Hell, if I were the kind of person to steal stuff I would shoplift this album. So go steal this album. Totally worth some jail time.
#1 - RYAN CULWELL - Flatlands
You may have noticed that I did not number the previous albums. To me music and art in general reaches a certain level and when you start saying this album is number three and this one is number seven you start to miss the point of the music. But every once in a while you get to say an album is "The Album Of The Year".
Somewhere during my first listen to Ryan Culwell's Flatlands I said that this was the Album Of The Year. It was like a Mexican Coke after eating some hot wings. Real flavor. No saccharine, no aftertaste. It was a great cup of coffee. Bold, dark and chewy and not a hint of bitter but a lot of bittersweet and very potent. When you are done listening to Flatlands you feel bruised. When I sat down to make our "HeartBeatTrue Radio Album Of The Year" list, writing the number one album was easy and that was the only thing easy about this album. Absolutely brutal.