Homegrown Sunday Ramble Y2-02: Je' Suis Charlie? A yes and a no.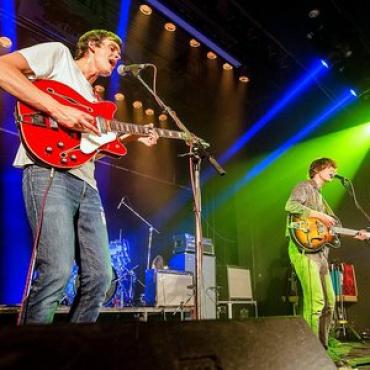 It's the dead of winter here in the Northeast so when I say "Baby, it's cold outside" you'll know that it's more than Christmas kitch. The start of the new year brings to an end nearly a month without significant new releases to play here on the Homegrown Sunday Ramble so it is both a pleasure and a relief to open the show with excellent new music from The Decemberists' new album, "What A Terrible World, What A Beautiful World". High praise for Colin Meloy and company for releasing the first great record of 2015. We also play new music, to us anyway, from the band Ultimate Painting. Listen in and see if you pick up on The Velvet Underground influence in their music. We round out the first hour with some 2014 favorites from Hiss Golden Messenger, Parker Millsap and Sun Kil Moon.
In the second hour, Paul turns back the clock to early 2005 and imagines what our show might have sounded like back then. Using the album chart from an old No Depression he plays tracks from Tom Waits, Wilco, The Drive By Truckers, Steve Earle, Tift Merritt, Elliot Smith and Elvis Costello dueting with Lucinda Williams. Fire up the time machine, I want to go back!
Now as to the title of this post, like most people I have my political opinions and like most people I have learned to keep those opinions mostly to myself. Coming out of one of the songs on this show I expressed my sympathies to the people killed in Paris last week with the now ubiquitous phrase "Je' Suis Charlie" and to my surprise Paul objected. Listen to the show to hear his reasons and to decide if he is being nuanced while I am being knee jerk in our reactions. 
Whatever you decide, we're happy and grateful to have you as listeners. Remember you can always reach us on Facebook at our group page, the homegrown sunday ramblers. Subscribe to our feed at mixcloud.com/homegrownsundayramble and get weekly email notifications when a new show is posted. Thanks for checking in and we'll see you back here next week.