The International Americana Music Show (#1607)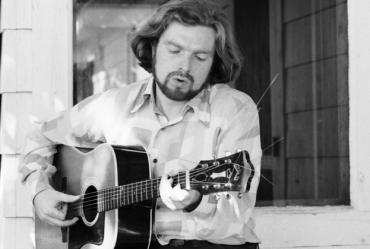 To mark the occasion of the inaugural UK Americana Music Awards, which took place earlier this month in London, this edition of the show (#1607) is the first of two British Americana Specials – filled with the music of contemporary roots artists from Scotland, England, Wales and Northern Ireland.
The first song is by the winner of the UK Americana Music Award for Emerging Artist Of The Year – singer Robert Vincent - and then we travel back in time to hear the song that many credit with starting music down the path that has led to Americana becoming a recognised genre of music: Lonnie Donegan's version of Rock Island Line, first recording in America in the 1930's.
Lonnie Donegan was the UK's most successful recording artist, before The Beatles, and there are tracks later in the show by a number of other artists who have had celebrated musical careers including Billy Bragg and Richard Thompson.
There are also songs by UK artists who have clearly been influenced by a number of the different styles of American roots music including country, blues, Appalachian, and even the type of folk-rock emerging from Laurel Canyon in the 1970's.
The show concludes with tracks by two septuagenarian knights: Sir Van Morrison (pictured) and Sir Tom Jones.
The full playlist is:
Robert Vincent (England) – The Passage (Life In Easy Steps)
Lonnie Donegan (Scotland) – Rock Island Line (Skiffle Hits)
Daniel Meade (Scotland) – Rising River Blues (Keep Right Away)
Billy Bragg (England) – Way Over Yonder In A Minor Key (Live At Union Chapel London)
Richard Thompson (England) – I Want To See The Bright Lights Tonight (Acoustic Classics)
Tom Morton (Scotland) – Caledonia Country (Caledoniaville)
The Toy Hearts (England) – Thunderstorms & Neon Signs (Whiskey)
Martin Harley (England) – Honey Bee (Live From Southern Ground)
Dai & The Ramblers (Wales) – The Chicken & The Hawk (Duw Duw)
Hatful Of Rain (England) – These Streets (The Morning Key)
The Bevvy Sisters (Scotland) – 6 Degrees (Plan B)
Treetop Flyers (England) – Things Will Change (The Mountain Moves)
Zervas & Pepper (Wales) – Everybody Knows (EP2)
Van Morrison (Northern Ireland) – Here Comes The Night (It's Too Late To Stop Now)
Tom Jones (Wales) – Raise A Ruckus (Long Lost Suitcase)
You can stream this edition of the show via the mini-player below or via this link – and if you have any comments, or requests, please do get in touch.
Thank you for taking the time to listen.
Michael Park
Web: www.tiams.org
Twitter: @TIAMSorg