The Miller Tells Her Tale 516 - Best of 2014 Part 2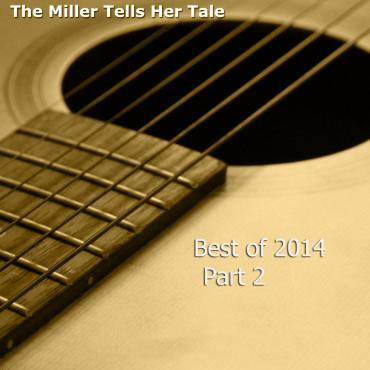 The Miller Tells Her Tale Best of 2014 Part 2 features more of the excellent releases from 2014, which I think is quite probably the best year of the 2010s for americana music so far!
My album of the year from Carrie Elkin and Danny Schmidt is included as are a couple of other wonderful duet albums from Ben and Ellen Harper, and Bruce and Kelly Willis.   There's also a first play for Colin Clyne, a Scotsman, I've only recently discovered, but his album was definitely strong enough to feature in my best of, and there'll be more from it in future weeks.
Cory Branan: Sour Mash (The No-Hit Wonder,Bloodshot Records)
Parker Millsap: Quite Contrary (Parker Millsap,Okra Homa)
Marty Stuart & His Fabulous Superlatives: I'm Blue, I'm Lonesome (Saturday Night / Sunday Morning,Thirty Tigers)
Amy Lavere: Lousy Pretender (Runaway's Diary,Archer Records)
Carrie Elkin and Danny Schmidt: Kiss Me Now (For Keeps,Red House Records)
Ben and Ellen Harper: Break Your Heart (Childhood Home,Concord Music Group)
Bruce Robison and Kelly Willis: I'll Go To My Grave Loving You (Our Year,Thirty Tigers)
The Westies: Hell's Kitchen (West Side Stories,self-released)
Malcolm Holcombe: The Music Plays On (Pitiful Blues,Gypsy Eyes Music)
Matt Harlan: Slow Moving Train (Raven Hotel,Berkalin Records)
Blue Rose Code: One Day At A Time (The Ballads of Peckham Rye,Ronachan Songs)
Del Amitri: Move Away Jimmy Blue (live) (Into The Mirror,Groovy Tunes)
Ben Glover: Blackbirds (Atlantic,Carpe Vita Creative)
Mark Erelli: Handsome Molly (Milltowns,Hillbilly Pilgrim Records)
Ramshackle Union Band: Lullaby For The Lost (R U B,self-released)
Craig Moreau: Stranded (The Daredevil Kid,self-released)
The Early Mays: Red Bud (The Early Mays,self-released)
Eliza Gilkyson: Eliza Jane (Nocturnal Diaries,Red House Records)
Rosanne Cash: Money Road (The River and The Thread,Decca)
Rodney Crowell: Fever On The Bayou (Tarpaper Sky,New West)
John Gorka: She's That Kind of Mystery (Bright Side of Down,Red House Records)
Luke Tuchscherer: Two Ships (Caroline Please) (You Get So Alone At Times That It Just Makes Sense,The Little Red Recording Company)
Phantom Limb: Missy (The Pines,Naim Edge)
Anna Mitchell: Tennessee (Fall Like That EP,self-released)
Run Boy Run: Heavy The Sorrow (Something To Someone,Sky Island Records)
The Thompson Family: Right (feat. Teddy Thompson) (Family,Concord Music Group)
Colin Clyne: Merry Go Round (The Never Ending Pageant,Fat Hippy Records)
Annie Keating: Know How To Fall (Make Believing,self-released)
Gina Villalobos: Tears Gone By (Sola,self-released)
Esther Rose Parkes: Slaking The Dust (The Other Country,self-released)
Vincent James: Winter's Hand (The Wilderness EP,Noisetrade)
Lily and Madeleine: Stuck on the Puzzle (Rabbit, Run For It,Noisetrade)
Jessie Kilguss: You Didn't Do Right By Me (Devastate Me,self-released)
Mandolin Orange: The Runaround (This Side of Jordan,Yep-Roc)
Augie Meyers: Counting Drops of Rain (Santa Fe,El Sendero Records)
The Stray Birds: The Bells (Best Medicine,Yep-Roc)
Balsam Range: Songs I've Sung (Five,Mountain Home)