The Miller Tells Her Tale 534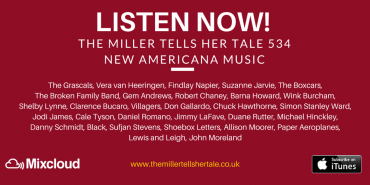 2015 has so far been a year of fantastic new releases and new (to me) artists, and I'm finding it really difficult to whittle down my favourites into two hours worth of music to feature on the show each week!
I'm loving the new albums from Wink Burcham, Robert Chaney, John Moreland, Barna Howard, Danny Schmidt, Jodi James and Chuck Hawthorne, and can see why everyone is talking about Cale Tyson. All are featured on this week's show and I hope you enjoy them as much as I do!
Subscribe to the Podcast
Stream via Mixcloud
Listen via TuneIn App
Listen via Stitcher App
The Miller Tells Her Tale website
The Miller Tells Her Tale on Facebook
The Miller Tells Her Tale on Twitter
The Grascals: Hello Mr Lonesome (Life Finds A Way,Crossroads Records)
Vera van Heeringen: It's All Been Said (Proper Brew,Wood and Steel)
Findlay Napier: The Sport of Kings (VIP: Very Interesting Persons,Cheerygroove)
Suzanne Jarvie: Tears of Love (Spiral Road,Continental Song City)
The Boxcars: Still Good At Crying Over You (All In,Mountain Home Music Company)
The Broken Family Band: Trouble (Balls,Track and Field)
Gem Andrews: Mother Dear (Vancouver,Market Square Music)
Robert Chaney: Corazones Amarillos (Cracked Picture Frames,Jagged Lines)
Barna Howard: Indiana Rose (Quite A Feelin,Loose)
Wink Burcham: Chemical Train (Cowboy Heroes and Old Folk Songs,Continental Song City)
Shelby Lynne: Down Here (I Can t Imagine,Decca)
Clarence Bucaro: Alone In Love (Like The First Time,Continental Song City)
Villagers: Everything I Am Is Yours (Darling Arithmetic,Domino)
Don Gallardo: The North Dakota Blues (Hickory,Clubhouse Records)
Chuck Hawthorne: Dragon Flies (Silver Line,self-released)
Simon Stanley Ward: Behind Closed Doors (Simon Stanley Ward,Sizzle Records)
Jodi James: Broken Smile (Things I Leave Behind,self-released)
Cale Tyson: Old Time Blues (Introducing Cale Tyson,Clubhouse Records)
Daniel Romano: Middle Child (Come Cry With Me,New West)
Jimmy LaFave: Maybe (The Night Tribe,Music Road Records)
Duane Rutter: Patch of Green (Never Bet The Devil Your Head,Busted Flat Records)
Michael Hinckley: The Best of Me (Hang A Black Cloth,Flat Water Records)
Danny Schmidt: Cries of Shadows (Owls,Live Once)
Black: Who Are You (Blind Faith,Nero Schwarz Ltd)
Sufjan Stevens: Death with Dignity (Carrie & Lowell,Asthmatic Kitty)
Shoebox Letters: Fall For Me (Buckle Up,self-released)
Allison Moorer: If I Were Stronger (Down To Believing,Proper Records)
Paper Aeroplanes: Red Rover (Souvenirs EP,Noisetrade)
Lewis and Leigh: Late Show (Missing Years,ALM)
John Moreland: Cleveland County Blues (High On Tulsa Heat,Old Omens)