The Miller Tells Her Tale - Extended 500th Episode Edition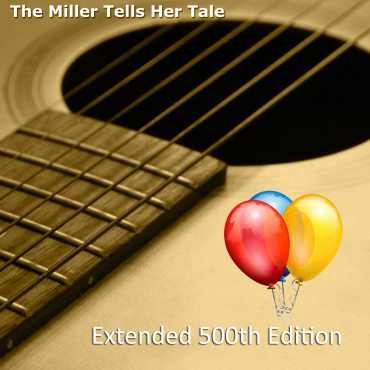 Hello!
Happy birthday to TMTHT! Hard to believe I've reached 500 shows and been doing this labour of love since 2001.    TMTHT came about when I was introduced to SpydaRadio's Mike Chapman by Bob Paterson during SXSW in 2001.   I told him I did an americana hospital radio programme and he immediately offered me a slot on his internet station.  When Spydaradio sadly folded, I didn't want to stop what I was doing, it was early days in the podcasting world, but I figured out what to do eventually and TMTHT continued.
The idea behind this show has always been to support all those primarily independent musicians who are brilliant and talented, but just don't get the airplay or recognition they deserve.  There are so many wonderful songwriters out there that I want as many people to hear as possible.  I remember how I used to sometimes stop dead in my tracks when I heard some of the songs played by both the late great Roger Scott and Bob Harris, and my excitement at hearing new artists - I hope on occasions the music I've played will have had the same reaction.
I also have to pay credit to Roger Scott especially for introducing me to how important it is to craft a show, to choose songs that compliment each other and flow seamlessly and to let the music talk for itself.   I still have some of Roger's shows on cassette and they are works of art - the first time I ever heard my all-time favourite band was on the Roger Scott Show - I still have this recording - Del Amitri "Kiss This Thing Goodbye". So I end my 500th show with this song not only because it's Del Amitri, but in tribute to the man, without whom The Miller Tells Her Tale probably wouldn't exist.
I chose these songs because they all mean something to me, and are by artists I've played again and again over the years. It was tough picking so few - I had a shortlist of over 100, hence the reason I extended this show by 30 minutes.  There are few, if any, new bands or songs.  Maybe by my 1000th show there'll be more from this decade included! I've heard many excellent artists in recent years, but they don't quite mean enough to me to be included in this exclusive group.  It's not the cheeriest show either, but I'm not going to apologise for that, some of the very best songs in my opinion anyway, are those that tug at the heartstrings.  It's been a major theme running throughout TMTHT since the very beginning, and I can't see that changing any time soon!
Finally I'd just like to thank all of you for listening and supporting both the show and the musicians I play.  I couldn't have continued this long without you. 
You can listen/download in all the usual places:
And now.... to the music!
Todd Thibaud: Little Mystery (Little Mystery,Doolittle Records)
Buddy Miller: That's How I Got To Memphis (Your Love And Other Lies,Hightone)
Jim Lauderdale: It's Hard To Keep A Secret Anymore (Whisper,BNA)
Robbie Fulks: Leave It To A Loser (Georgia Hard,Yep-Roc)
Jon Randall: I Can't Drive You From My Mind (Cold Coffee Morning,Asylum)
Kevin Montgomery & Pettibone: Stumbled (Another Long Story,Road Trip Records)
Rod Picott: On and On (Tiger Tom Dixons Blues,Welding Rod Records)
Jeff Finlin: Perfect Mark of Cain (The Original Finn,Gravity)
Duane Jarvis: She's Like A Drink (DJ's Front Porch,Medium Cool Records)
Tandy: The District Doctor (Lichtenstein's Oriole,Yellow Slipper)
Karen Matheson: Crucan na Bpaiste (Transatlantic Sessions 3 Vol 1,Whirlie Records)
Oh Susanna: Alabaster (Johnstown,Stella Records)
Patty Griffin: Top Of The World (Impossible Dream,ATO Records)
Shawn Mullins: Lullaby (acoustic) (Beneath The Velvet Sun,Columbia)
Kieran Kane & Kevin Welch: Train To Birmingham (Live In Melbourne,Dead Reckoning)
Mark Erelli: The Farewell Ball (Hillbilly Pilgrim,Signature Sounds)
Alex Ryan: Alice (Bloom,self-released)
Mando Saenz: Pittsburgh (Bucket,Carnival Music)
Justin Rutledge And The Junction Forty: Too Sober To Sleep (No Never Alone,Shady Lane Records)
Ray LaMontagne: Trouble (Trouble,Echo)
Vince Gill: The Reason Why (These Days,MCA Nashville)
Jimmy LaFave: On A Bus To St Cloud (Texoma,Bohemia Beat Records)
Dave Carter & Tracy Grammer: Gentle Soldier Of My Soul (Drum Hat Buddha,Signature Sounds)
Madison Violet: The Woodshop (No Fool For Trying,True North)
Jim Reilley: The Man Who Had Everything (The Return of Buddy Cruel,Silent Planet)
Slaid Cleaves: Horseshoe Lounge (Broke Down,Philo)
Marty Stuart: Red Red Wine and Cheatin' Songs (Whiskey and Rhinestones: The Ultimate Collection,Humphead)
SWAG: Trixie (CatchAll,Yep-Roc)
Richard Shindell: Confession (Somewhere Near Paterson,Signature Sounds)
Eric Brace & Peter Cooper: Her Bright Smile Still Haunts Me (You Don't Have To Like Them Both,Red Beet Records)
Blue Rodeo: Bad Timing (Five Days in July,WEA)
Johnny Cash: Hurt (American IV: The Man Comes Around,Lost Highway)
Emmylou Harris: Boulder To Birmingham (Anthology: The Warner/Reprise Years,Warner Bros)
Sam Baker: Broken Fingers (Pretty World,self-released)
Del Amitri: Kiss This Thing Goodbye (Waking Hours,A&M)