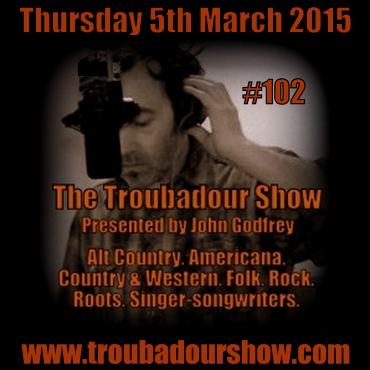 The Troubadour Show #102. Presented by John Godfrey
Listen to the show - The Troubadour Show #102
This show originally broadcast on The Penguin Rocks online Radio Station on Thursday 5th March 2015 and is now available to listen to again. On this week's show I played 28 tracks, two hours of great music. Every week I play a mix of new releases and some old favourites. The best in Alt Country, Americana, Country & Western, Folk, Rock, Roots and Singer-songwriters. I hope you enjoy it. Thanks John.
You can find out more and follow The Troubadour Show at
The website - troubadourshow.com
twitter @troubadourshow
Facebook - Facebook.com/thetroubadourshow
Email - thetroubadourshow@yahoo.co.uk 
The Troubadour Show #102 Thursday 5th March 2015 Playlist
Song - Man In Black
Artist - Johnny Cash
Song - Stupid Bird (This Time Next Year)
Artist - Dean Fields
Song - You're The One
Artist - Deering And Down
Song - Can I Hold Your Hand
Artist - Sandy Dane
Song - Remember
Artist - Hat Check Girl
Song - A Long Way To Go
Artist - Jeff Black
Song - Good Luck Charm
Artist - The Mastersons
Song - Still Feeling Blue
Artist - Gram Parsons
Song - Prodigal
Artist - Matthew McNeal
Song - Longing For A Home
Artist - The Foghorn Stringband
Song - Crazy Heart
Artist - Two Tons Of Steel
Song - Sunshine Lady
Artist - Dion
Song - Harlem Hill
Artist - Dwayne Shivers
Song - McAlway Road
Artist - Jud Block
Song - Old Time Rock & Roll
Artist - Bob Seger & The Silver Bullet Band
Song - All Or Nothin'
Artist - Nikki Lane
Song - Linda Goes To Mars ***
Artist - John Prine
Song - From Linda ***
Artist - HalleyAnna
Song - Linda Paloma ***
Artist - Jackson Browne
Song - Deadman's Blues
Artist - Matt Woods
Song - High Speed Train
Artist - Rob Heron And The Tea Pad Orchestra
Song - Streets Of Baltimore
Artist - Gram Parsons
Song - Here We Go Honey
Artist - Cara Louise Band
Song - Cleveland
Artist - Julie Gibb
Song - City Love, City Lose
Artist - Blue Water Highway Band
Song - A Lot To Ask
Artist - Reckless Kelly
Song - An Irish Airman Forsees His Death
Artist - The Waterboys
Song - Something In The Night
Artist - Bruce Springsteen
Song - Once Upon A Time In The West Finale
Artist - Ennio Morricone
*** This week's 3 song connection - 'Linda'.
This week's Album From The Archives - Gram Parsons - GP.