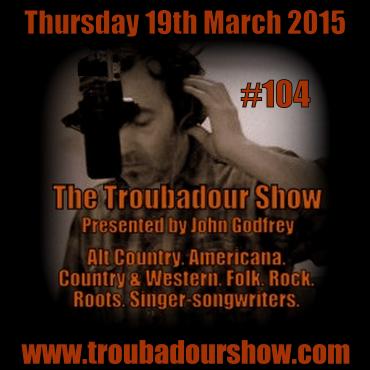 The Troubadour Show #104. Presented by John Godfrey
Listen to the show - The Troubaodur Show #104
This show originally broadcast on The Penguin Rocks online Radio Station on Thursday 19th March 2015 and is now available to listen to again. On this week's show I played 29 tracks, two hours of great music. Every week I play a mix of new releases and some old favourites. The best in Alt Country, Americana, Country & Western, Folk, Rock, Roots and Singer-songwriters. I hope you enjoy it. Thanks John.
You can find out more and follow The Troubadour Show at
The website - troubadourshow.com
twitter @troubadourshow
Facebook - Facebook.com/thetroubadourshow
Email - thetroubadourshow@yahoo.co.uk 
The Troubadour Show #104 Thursday 19th March 2015 Playlist
Song - Kiss An Angel Good Morning
Artist - Charley Pride
Song - Coward's Luck
Artist - Hip Hatchet
Song - Friends
Artist - Whiskey Shivers
Song - Ghost Of Kerouac
Artist - Roger Holzheimer
Song - Kissing The World Goodbye
Artist - The Old Ironsides
Song - Grab The Wheel
Artist - Gurf Morlix
Song - What Can I Do
Artist - David Rothschild
Song - There Goes My Everything
Artist - Tammy Wynette
Song - Stealing Electricity
Artist - Tom Russell
Song - Walk Away
Artist - June Star
Song - Hurricane
Artist - Lauren St Jane
Song - Lay It All On Me
Artist - Blackberry Smoke
Song - Destiny
Artist - Chris Andres
Song - Picture In A Frame
Artist - Noel Flynn
Song - Break In
Artist - Dakota Pearl
Song - The Spark
Artist - Pokey LaFarge
Song - I Hope Love Always Knows Your Name ***
Artist - Phil Lee
Song - Hope ***
Artist - Bob Cheevers
Song - Hope, Faith And Love ***
Artist - Steve Forbert
Song - Boston Town
Artist - Della Mae
Song - St. Claire Of Cedar Rapids
Artist - The Hangdogs
Song - Send Me No Roses
Artist - Tammy Wynette
Song - Divided Highway
Artist - Zach Pietrini
Song - Tell It Like It Is
Artist - Lindi Ortega
Song - Mamma
Artist - Harry Pane
Song - Politics
Artist - Paper Rifles
Song - Dead In New Orleans
Artist - Mat D and the Profane Saints
Song - Away We Go
Artist - Awna Teixeria
Song - Ain't Got You
Artist - Bruce Springsteen
Song - Once Upon A Time In The West Finale
Artist - Ennio Morricone
*** This week's 3 song connection - 'Hope'.
This week's Album From The Archives - 1967.
Tammy Wynette - Your Good Girl's Gonna Go Bad.