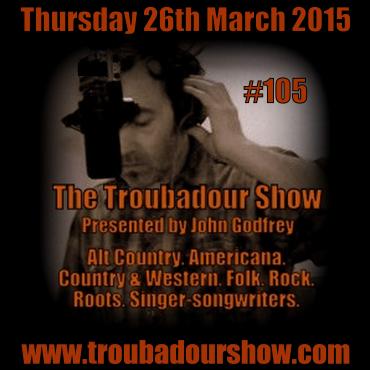 The Troubadour Show #105. Presented by John Godfrey
Listen to the show - The Troubadour Show #105
This show originally broadcast on The Penguin Rocks online Radio Station on Thursday 26th March 2015 and is now available to listen to again. On this week's show I played 29 tracks, two hours of great music. Every week I play a mix of new releases and some old favourites. The best in Alt Country, Americana, Country & Western, Folk, Rock, Roots and Singer-songwriters. I hope you enjoy it. Thanks John.
You can find out more and follow The Troubadour Show at
The website - troubadourshow.com
twitter @troubadourshow
Facebook - Facebook.com/thetroubadourshow
Email - thetroubadourshow@yahoo.co.uk 
The Troubadour Show #105 Thursday 26th March 2015 Playlist
Song - Heartbreak Hotel
Artist - Elvis Presley
Song - From A King To A Fool
Artist - Gene Butler Band
Song - I Hope You Get What You Need
Artist - Erin Rae
Song - Truck Driver's Blues
Artist - Marty Stuart
Song - Hold On
Artist - Luke Tuchscherer
Song - The Guns And The Crazy Ones
Artist - Danny Schmidt
Song - Rock 'n' Roll Girl
Artist - The Hillbilly Moon Explosion
Song - That's All You Gotta Do
Artist - Brenda Lee
Song - Letter To A Lover
Artist - The Cedars
Song - Sons, Death And Their Orphaned Daughters
Artist - Zack Pietrini
Song - Who Is This Girl?
Artist - Gandalf Murphy & The Slambovian Circus Of Dreams
Song - Midnight Alibi In New York City
Artist - Johnny Hate
Song - Take It With Me
Artist - Tom Waits
Song - Fought The Blues And Won
Artist - The Des Londes
Song - How To Live A Lie
Artist - The Good For Naughts
Song - Drive
Artist - Grant Langston
Song - Dreams Come True ***
Artist - Nils Lofgren
Song - These Dreams Of You ***
Artist - Van Morrison
Song - Some Dreams ***
Artist - Steve Earle
Song - Get Out Of My Mind
Artist - Ags Connolly
Song - My Honey
Artist - Ginger St James & The Grinders
Song - Let's Jump The Broomstick
Artist - Brenda Lee
Song - Standing At The Edge Of The World
Artist - Have Gun Will Travel
Song - A Good Day To Say Goodbye
Artist - Liz Frame And The Kickers
Song - Truckstop Jukebox
Artist - Boss Caine
Song - Return Of The Grievous Angel
Artist - Gram Parsons
Song - Hurricane Wind
Artist - Carl Anderson
Song - Stop Your Sobbing
Artist - The Pretenders
Song - Frankie
Artist - Bruce Springsteen
Song - Once Upon A Time In The West Finale
Artist - Ennio Morricone
*** This week's 3 song connection - 'Dreams'.
This week's Album From The Archives - From1960.
Brenda Lee - Brenda Lee.