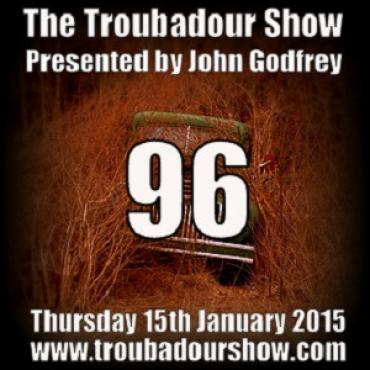 The Troubadour Show #96. Presented by John Godfrey
Listen to the show - The Troubadour Show #96 
This show originally broadcast on The Penguin Rocks online Radio Station on Thursday 15th January 2015 and is now available to listen to again. On this week's show I played 27 tracks, two hours of great music. Every week I play a mix of new releases and some old favourites. The best in Alt Country, Americana, Country & Western, Folk, Rock, Roots and Singer-songwriters. I hope you enjoy it. Thanks John.
You can find out more and follow The Troubadour Show at
The website - troubadourshow.com
twitter @troubadourshow
Facebook - Facebook.com/thetroubadourshow
Email - thetroubadourshow@yahoo.co.uk 
The Troubadour Show #96 Thursday 15th January 2015 Playlist
Song - Blanket On The Ground
Artist - Billie Jo Spears
Song - Litany For January 15
Artist - Geoff Bartley
Song - January Song
Artist - Blueganu
Song - Coal Gray Town
Artist - The Red House
Song - Wishing Well
Artist - Rob McHale
Song - Are You Sure Hank Done It This Way
Artist - Waylon Jennings
Song - Half Empty Heart
Artist - Tom Mess
Song - Unknown Legend
Artist - Caitlin Canty
Song - Runaway Train
Artist - The Bros. Landreth
Song - Before I Met You
Artist - Jessica Stiles
Song - Sweet Salvation
Artist - Years Of Dust
Song - Passenger Side
Artist - Hugh Bob And The Hustle
Song - Gimme Three Steps
Artist - Lynyrd Skynyrd
Song - Send It On Down
Artist - Lee Ann Womack
Song - Farther From Me
Artist - Justin Townes Earle
Song - I Don't Buy It
Artist - Sammy Brue
Song - Souvenirs And California Memories ***
Artist - David Allan Coe
Song - California Sky ***
Artist - Bastard Sons Of Johnny Cash
Song - California Snow ***
Artist - Tom Russell
Song - Freedom Hunter
Artist - Awna Teixeira
Song - Runaway
Artist - Jess Vincent
Song - Rockets
Artist - Nick Faye And The Deputies
Song - Waymore's Blues
Artist - Waylon Jennings
Song - A Little Bit Of Somethin'
Artist - Dos Ringos
Song - Southern Cross
Artist - Crosby, Stills & Nash
Song - Angel Of The Lost Highway
Artist - Mat D and the Profane Saints
Song - Jungleland
Artist - Bruce Springsteen
Song - Once Upon A Time In The West Finale
Artist - Ennio Morricone
*** This week's 3 song connection - California
Album From The Archives -
Waylon Jennings. Dreaming My Dreams.