The Roots Channel
Music and Arts from the Ground Up
2 Man Gentlemen Band: "Pork Chops"
This Super 8 film from 50 Feet of Song features the swinging music of the 2 Man Gentlemen Band.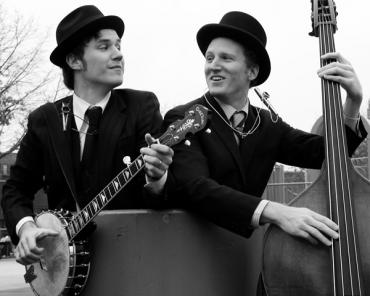 Irreverent songwriters, expert instrumentalists, former street-performers, and consummate showmen, The Two Man Gentlemen Band has been barnstorming from coast to coast for nearly a decade, developing a reputation as a must-see live act on the roots and retro music circuits. A tenor guitar and string bass duo in the tradition of the great Slim & Slam – with the occasional pyrotechnic banjo feature thrown in – Andy Bean and Fuller Condon have an obvious affection for pre-war American Jazz and Western Swing—but they're no period piece. The decidedly contemporary feel of their lyrics and the hilarious, often ridiculous, improvised banter that peppers their live shows combine with the music for a thoroughly modern ruckus. The Gentlemen (namely, Andy Bean and Fuller Condon) began The Two Man Gentlemen Band in 2004 strictly as a street-performing outfit. For three years, whenever the weather permitted, they played marathon sets in New York City's Central Park (with occasional forays into the city's subway system). After developing their act on the streets, The Gents hit the road for good in 2007 and quickly grew to be regarded as a premiere touring act in their genre.