The Roots Channel
Music and Arts from the Ground Up
Blue Rock Live: Brooks Williams
Enjoy a night of super-charged roots music with Brooks Williams in this special Blue Rock Live concert.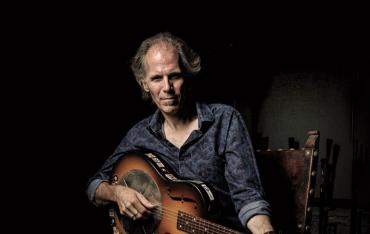 Brooks Williams, from Statesboro, Georgia (the town made famous by country-blues legend Blind Willie McTell), creates a super-charged roots music. Key And Chords from Belgium describes Williams' music as "A beautiful fusion of blues, old country and a touch Americana." Audiences are often heard asking, how can one guitar and one voice sound like a full band? 

Roots says of Williams, he "really rocks, stirring up soulful Americana, full-on blues and tasty rootsy grooves." Like drinking whiskey from a honey jar, you get both the sweet and the bite. Resonator slide and acoustic Piedmont picking lay down the groove while Williams' laid-back low-country vocal floats over top. AmericanaUK says, "he has a beautiful voice that you just melt into." And he's one helluva good guitar player, ranked in the "Top 100 Acoustic Guitarists." The San Antonio Light says that Williams is a "fret monster who has to be seen to be believed!"

 His massive repertoire spans classic roots and blues, compelling covers (from the likes of Dave Alvin, Mose Allison and Kris Kristofferson), and his own songs, which are rooted in blues and old country but are thoroughly alive with clearly-drawn ironic characters and rich blues pathos.

 Brooks Williams has worked stages worldwide for over twenty-five years, touring constantly in the US, UK and Europe from his current home in England. Over the course of his career he has amassed a staggering back-catalogue of songs, recordings and tales. With over twenty-four CDs to his name, The Graveyard Shift calls Brooks Williams' music "ear-gasmic delight!"