The Roots Channel
Music and Arts from the Ground Up
Rabbit Wilde: "Distant Lands"
We're pleased to share this foot-stomping love song by Rabbit Wilde, caught on 50 Feet of Song's super8 film!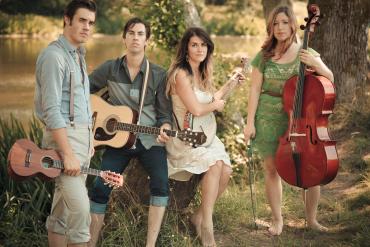 Though all four members of Rabbit Wilde grew up running around wooded areas of the same small town in the farthest Northwest corner of Washington state, brothers Zach and Nathan Hamer didn't meet Miranda Zickler, the third founding member, until they had all ended up in New York City. This kind of backyard folk seasoned by the big-city is at the root of their high-energy sound and stage presence. The group revamps classic string band instrumentation with homespun percussion and the unique integration of six-string ukulele and Jillian Walker on cello.